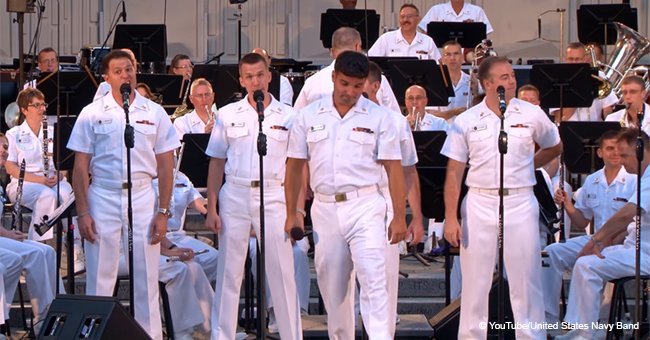 Official Navy band wow the crowd with performance of 'Jersey Boys'
Navy's dedicated band, The Sea Chanters, gave a jaw-dropping performance of Jersey Boys at the Concerts on the Avenue series.
The 10-minute video shows the performance at the U.S. Navy Memorial in 2014 and was uploaded on YouTube on August 3, 2015.
Navy service members have a reputation for being tough and stern. They need to be resilient people because they are out in the sea for long stretches of time.
However, it does not stop them from enjoying themselves and having some fun. The U.S. Navy Band, though, seems to have fun always.
The dedicated band of the Navy plays music to honor the country's military services and the those who protect freedom and democracy.
The Sea Chanters performances probably always leave audiences amazed at their talent and showmanship.
The video is from 2014 and has proved to have lasting popularity. Shot during the Concerts on the Avenue series hosted at the United States Navy Memorial it has the band performing from the hit musical Jersey Boys
Five men in Navy uniform are seen at the front of the stage. As soon as they begin to sing, the crowd goes wild when they recognize their favorite song.
According to Navy Band's official website, 'The ensemble performs a variety of music ranging from traditional choral music, including sea chanteys and patriotic fare, to opera, Broadway, and contemporary music.'
The Sea Chanters are led by Senior Chief Musician Adam Tyler and perform for the public throughout the country. They perform for the president, vice president, and numerous congressional, military, and foreign dignitaries, at home in Washington.
It was the vision of Lt. Harold Fultz which was responsible for creating the group back in 1956. He recruited singers for the group from the Navy School of Music to sing patriotic songs and chanteys to inspire the members of the government at the State of the Nation dinner.
The group then began singing more songs than just patriotic verses owing to its huge popularity.
However, the Sea Chanters is not the only Navy music group. There are other ensembles such as Chamber Ensembles, Cruisers, Country Current, Commodores, Ceremonial Band, and the Concert Band.
Read more on our Twitter account amomama_usa.
Please fill in your e-mail so we can share with you our top stories!