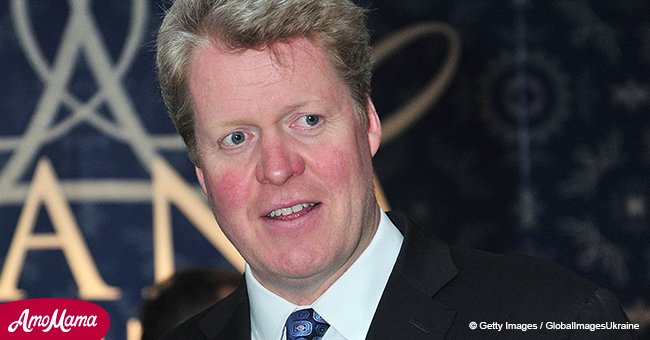 Princess Diana's brother donned stylish purple tie to accent wife's elegant dress
Earl Spencer and his wife Karen appeared in the Windsor Castle for the May 20th wedding of Prince Harry and Meghan Markle, both looking immaculate with their outfits carefully combined.
Late Princess Diana's younger brother sported a purple tie matching the polished violet outfit and eye-catching hat of his wife. He is one of the most controversial members of the Spencer clan, while the rest stays out of the spotlight.
Spencer famously confronted the media and, to a lesser extent, the Royal Family for their treatment of Diana before and after her tragic death, and this distanced him from his sister's in-laws.
But as Vanity Fair reported, Harry wanted to make sure that his late mother was not going to be forgotten on the day of his wedding, and he invited 'the entire Spencer clan' to the celebration.
Soon after Spencer's arrival at the wedding site, his sisters Lady Jane Fellowes and Lady Sarah McCorquodale followed. Earlier, Kensington Palace revealed that Lady Jane, the oldest of the siblings, had a big role in the ceremony.
As part of the religious service at St. George's Chapel, Lady Jane read a bible passage from the Song of Solomon in a very moving moment, according to Zimbio.
Despite being only 12 when his mother departed in 1997, Harry always maintained close ties to his extended family, and he made sure to honor his mother with the presence of her relatives at his wedding.
Early in the now Duke and Duchess of Sussex's relationship, Harry introduced his then-girlfriend to his uncle and aunts on the Spencer side, in addition to other people close to Diana, such as her friend Julia Samuel.
Markle shared this exclusively with CNN for the couple's official engagement interview back in November 2017.
'I think in being able to meet his aunts and - and also like Julia and different people who were so important to his mum, I'm able to, in some way, know a part of her through them and of course through him. And it's - it's incredibly special,' she said.
It was certainly a loving gesture from Harry to keep his mother in mind through his most special day, and she would surely feel honored by her son. Read more on our Twitter account @amomama_usa
Please fill in your e-mail so we can share with you our top stories!