Kate Middleton wears baby blue dress to Trooping the Colour parade
Catherine, the Duchess of Cambridge and the rest of the Royal family were observing the Trooping the Colour parade on Saturday.
The Royal family gathered on a balcony at Buckingham Palace to watch The Royal Air Force fly overhead, and the photo was shared on their official Instagram account.
Queen Elizabeth was surrounded by her family with Prince Charles, Duchess Catherine, and Prince William to her left. Princess Charlotte and Prince George stood by their parents. 
Duchess Camilla, Duchess Megan, and Prince Harry stood behind her, while The Duke of York, Princess Anne and Princess Beatrix stood to her right. 
 Prince Phillip retired from active duty last year and was not present at the celebrations, which dates back more than 250 years. 
Duchess Kate chose a gorgeous pale blue dress and matching fascinator for the occasion. Princess Charlotte and Duchess Camilla also wore pale blue.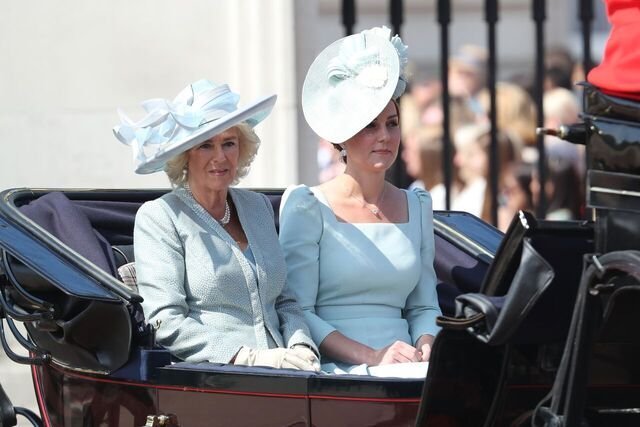 As reported by Cosmopolitan, members of the Royal family arrived by carriage, except for Prince William who arrived by horseback. 
He was dressed in a regal outfit for the day, and as a Royal Colonel of the Household Division, it is a tradition for him to arrive on horseback. 
Prince Harry and Duchess Meghan had recently returned from their honeymoon, and this event marks Meghan's first Trouping the Colour Parade. 
She wore a pale pink Caroline Herrera off-the-shoulder creation. Princess Beatrice also arrived in pink and chose a The Fold dress for the event. 
The Trouping the Colour parade dates back to the 17th century. Since the late 1740's, the event also marked the official birthday of the ruling British Sovereign. 
In modern times, the annual event is also known as the Queen's Birthday Parade, even though her birth date is April. For more details, please follow our Twitter Account, AmoMama USA.