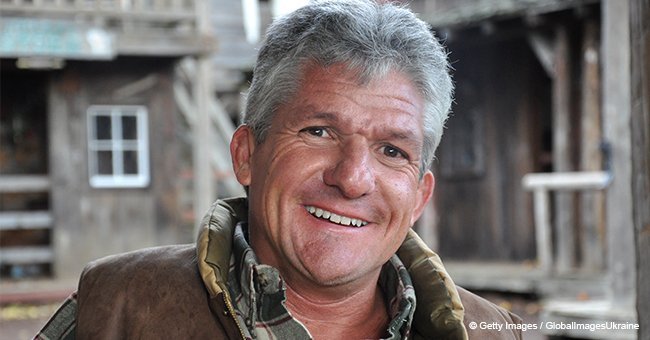 Matt Roloff shared rare photo of 24-year-old daughter Molly
Matt Roloff's 24-year-old daughter and former Little People Big World star surprised her parents with a visit over the weekend.
The reality television star and father-of-four shared the news with his 315,000 Instagram followers and said in the caption that the family had a 'fun Sunday.'
Her visit coincided with a trip which Matt's parents had planned and proved to be the perfect opportunity for the Roloff family to connect again and spend time with their loved ones.
The matriarch of the Roloff family, Amy, paid a visit to Molly in April and uploaded a few photos to her account as well, but it's been a while since Matt saw his daughter and son-in-law
Matt also made an important statement earlier today and tagged his ex-wife Amy and their children - Zach, Jeremy, Jacob, and Amy - in the announcement.
'We've been awarded by the Guinness Book of World Records for the most family-focused reality television shows in the history of television!!'
He thanked their fans, saying they would not have been able to do this without the love and support they receive continually from their viewers.
In April, Amy shared the following caption with her followers: 'What an awesome start to my three day weekend taking a road trip to visit with Molly and Joel.'
She added that she loves Spokane, and boasted with Molly's baking skills. 'She made the best cinnamon rolls and fresh squeezed orange juice for mimosas.'
Not only does the mother and daughter duo share a close bond, but they share a birth date as well. Molly will turn 25 years old on September 17th, and Amy will celebrate her 56th birthday.
According to Intouch Weekly, Molly and her husband Joel Silvius lives in Spokane, Washington. The couple exchanged wedding vows on the family farm back in August last year.
Like her younger brother Jacob, Molly also chose to lead a life away from the Little People Big World cameras and pursued an accountancy career.
She majored in Accounting and Spanish at the Whitworth University in Spokane two years ago and work at a Washington accounting firm. For more details, follow us on Twitter at AmoMama USA.
Please fill in your e-mail so we can share with you our top stories!