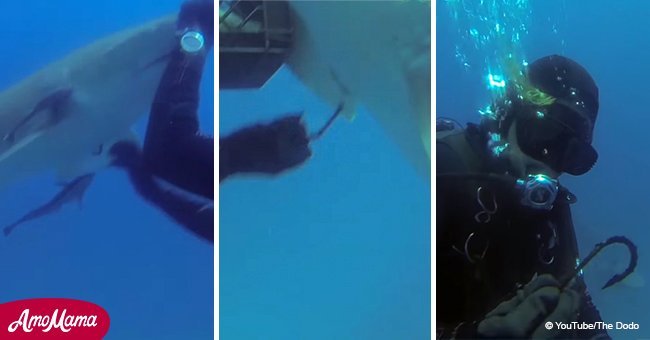 How a wounded shark 'asked' a diver to remove a hook from its belly
When a dangerous lemon shark approached the veteran diver, he knew something was wrong with the creature.
Josh Eccles, an experienced diver, was enjoying the warm Atlantic Ocean off the coast of Florida when he spotted a lemon shark hovering dangerously close to him.
While Eccles is no stranger to such encounters with the sharks, he was surprised by the strange behavior of the sea creature.
A video report from WPTV showed how the shark swam close to him and even came bumping at him. Eccles knew then that something was wrong.
Upon closer look, he finally realized that the shark had a hook hanging out of its belly. The diver understood that the shark's behavior was nothing more than a cry for help.
Although lemon shark is not known for being a threat to humans, they are still stocky and powerful creatures, who can grow up to 11 feet in length and are completely unpredictable.
Despite the risks involved, Eccles decided to help the sea creature, a daring feat which was also uploaded to YouTube by The Dodo.
He swam closer to the shark's belly and held the animal's snout with his one hand. With his other hand, he pulled out the hook that was giving the animal much trouble.
Eccles brave effort was caught on tape and it quickly went viral on the internet. So far it has gathered over 500,000 views with more than 400 people commenting on it.
Besides the daring act of Eccles, another inspiring thing about the video is the manner in which the shark said his 'thank you' to the diver in its own way.
The video revealed the shark coming back to Eccles, repeatedly, and swimming around the experienced diver.
Please fill in your e-mail so we can share with you our top stories!