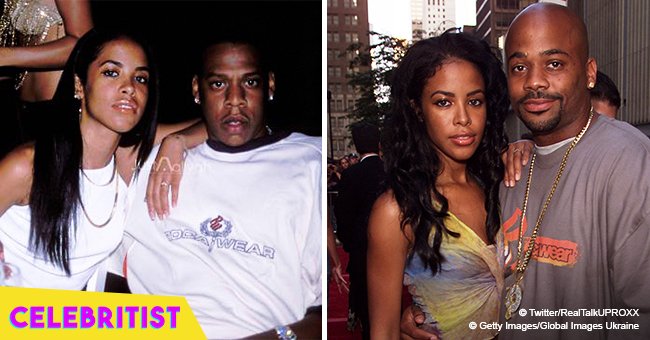 Dame Dash breaks silence on why Aaliyah dated both him and Jay-Z at the same time
While Aaliyah heartbreakingly passed away 17 years ago in 2001, many are still shocked by the revelation Dame Dash made about him dating the singer at the same time Jay-Z was.
Aaliyah was a young and mysterious artist, and fascination with her started way before she passed away. In many interviews, she chose not to reveal most aspects of her private life, especially after she was rumored to be married to R. Kelly at such a young age. Moreover, the singer chose to keep a cool distance between her and her fans, which made them draw even closer to her.
However, prior to her death, it seems Aaliyah was finally close to finding "the one", when she and Dame Dash were in a relationship and thinking about getting married. Openly sharing Aaliyah's perspective on dating, Dame claims he and Jay-Z were both trying to go for Aaliyah at the same time. While she did get into a brief relationship with Jay-Z, it did not blossom into something more.
"I was going at her, but Jay was going at her. He knew her before I did. It was a situation where Aaliyah was the type of girl that would give you a shot. She didn't care what people thought. So she'll date you and be your friend. But you might end up in the friend zone… You wasn't gonna just hit that. At least that was my experience."
The awkward situation between Aaliyah and the two former bestfriends and business partners ended up with a relationship between Aaliyah and Dame Dash. Dame explains that despite the challenge he faced, he ended up with Aaliyah, who was the love of his life and his fiancee.
On August 25, 2001, Aaliyah and members of her record company boarded a twin-engine Cessna 4022B at the Marsh Harbour Airport in Abaco Islands, the Bahamas, to travel to Florida. While it wasn't until the next day that they were supposed to leave, the passengers were eager to fly back to the US and boarded this plane instead. The plane crashed shortly after takeoff, about 200 feet from the end of the runway. The plane exploded after the crash, after reportedly being 700 pounds over its maximum take-off weight, and was even carrying one excess passenger.
Aaliyah currently rests in a private room at the Rosewood Mauseleum, and the inscription on her tomb reads "We Were Given a Queen, We Were Given an Angel".
Please fill in your e-mail so we can share with you our top stories!