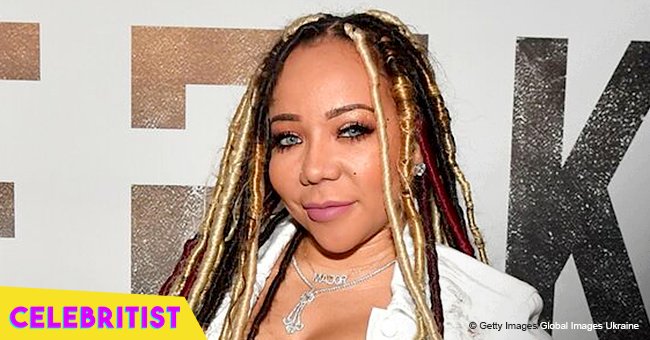 Tiny Harris shares latest photo and touching message to her '1st true love'
Tiny Harris shares a unique relationship with her eldest daughter, Zonnique Pullins, saying she taught her something very important when she was still young.
T.I.'s wife Tiny Harris had her first daughter Zonnique while she was still young. While she had to experience motherhood so early on in her life, she claims that the bond between her and her first daughter is precious. One particular life lesson that Zonnique taught her was that it is possible to love another human being more than oneself.
Now that Zonnique is old enough to attend the same parties that Tiny does, she shared a special tribute to her loving daughter.
"A mother's love @zonniquejailee she taught me everything about loving a human more than u love yourself!! Forever my 1st true."
Fans were quick to gush over the sweet tribute from mother to daughter, saying there is nothing more beautiful than a mother and daughter relationship.
"Beautiful… Nothing is better than a Mother n Daughter relationship…. beautiful love you all relationship wish I had my mother in my life this way … keep showing us we need to s more love. She's almost too pretty! Can pull off any hair color, make up no makeup all the while being drop-dead beautiful!"
"She's a great role model for young girls. So classy, well mannered, soft spoken, and mild tempered she is the most humbling adult celebrity in her generation now. She is so flawless, mature and outright stunning. Most definitely my favorite star in our era. Love how you're holding her like I'll kill you bout this one lol."
"I don't usually see the resemblance in u and Nique as much as I do the other babies…..but u all look a lot alike on this pic!! Ditto! I was 18 and not ready, but my thoughts were always, "I'm going to be responsible for someone other than myself!" Definitely my first love and most significant achievement."
Zonnique will hit the road with her mother and the rest of the Xscape ladies in a few weeks for their comeback tour. Tiny prides herself of her daughter, who is also a singer and songwriter like her. She shares that her daughter has been working hard, hitting the recording studio lately and has some great things in store for her fans. Their fans and followers could definitely look forward to some new tracks when the ladies start touring in the next couple of weeks.
Please fill in your e-mail so we can share with you our top stories!