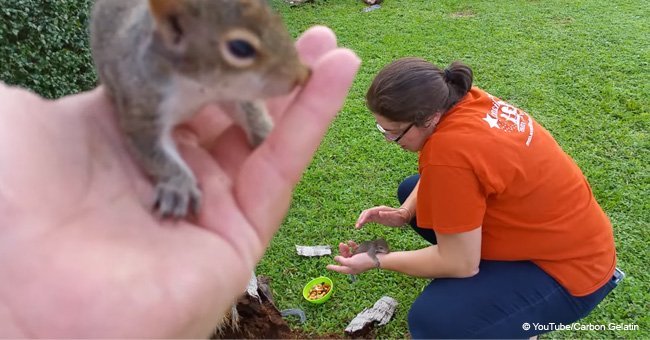 Tiny orphaned squirrels show incredible trust in their rescuer (video)
A man discovered a squirrel's nest that was inside a fallen tree in his backyard, the mom was nowhere to be found but her three babies survived.
The man posted the video of the baby squirrels on Youtube under the username of Carbon Gelatin. The footage begins with him walking along with his wife towards the fallen tree.
When they get close enough, soon the man realizes that buried in the wood chips is a baby squirrel. He then tried to get the squirrel out of the tree to take a better look and see if it is hurt or injured.
Suddenly, the man finds out that there are two other little tails pointing out of the wood chips pile. So he gently uncovers them with a piece of wood trying not to touch them with his bare hand as they are wild animals.
However, he quickly gave up on his attempts of keeping his distance from them as one of the babies grab his foot and begin climbing his pants. His wife decided to take the tiny animal very carefully trying not to harm the little rodent
To their surprise, the baby squirrel simply relaxes and let them hold him and pet him smoothly with the tip of their fingers. They take a close look at the baby with the camera and when they look down again there is another baby squirrel climb up the man's pants.
That the moment when they came to the conclusion that these poor little guys can't be left alone or they would not survive. So the couple decided to intervene, take the baby squirrels inside the house and safe these vulnerable creatures' lives.
Although the babies seemed to be healthy, they still need their mothers care to continue their development. The man and his wife ended up giving the babies to a pair of expert hands on this matter.
The man explained in a comment: "the squirrels are now with a professional. As cute as they were and as much as I'd love to have kept them, they are wild animals and I don't know how to properly care for them."
"They already lost their home, not fair if they lose their life," wrote the man and many people agreed with his wise decision. Read more on our Twitter account @amomama_usa.
Please fill in your e-mail so we can share with you our top stories!