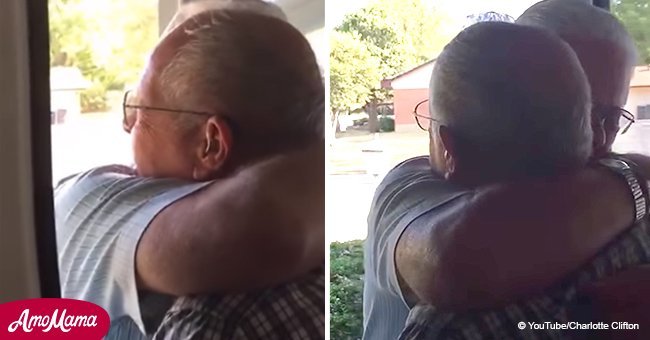 Long-lost army friends reunite with tearful embrace after 58 years
Charlotte Clifton's father was nicknamed Tex by his best friend Ken. It was 58 years later that the two 'army buddies' met again.
The video of their reunion was uploaded to YouTube by Clifton on November 11, 2015.
A family was about to sit down for dinner when the doorbell rang. A woman rushes over to the front door even as one can hear voices chattering in the background.
The man at the door was looking for someone named Tex. He says that he has been traveling around looking for the man.
The woman turns around and screams back at her family saying someone was looking for Tex. The man whose name was being called out was the only one who did not know what was going on.
It was a surprise planned for him by his family and everyone in the house knew who the stranger was.
The woman's father, an army veteran, was known as Tex by his friends while they served together. It was only his best friend who called him by that name.
Now, more than half a century later, he was being called Tex again. It took some time for him to realize that it was his Army buddy who had come down to meet him.
Tex came rushing into the room, looked at the man standing on the porch and just hugged his friend. He was finally hugging the man who stood by his side and fought battles during wartime.
The two tough military men begin crying and are at a loss for words. They pat each other's back as the man on the porch says, "I never thought I'd see you again."
After the warm hug, the two gentlemen shake hands. Tex looks at his best friend and says that he had not changed much except for his hair.
The family then reveals to him that they had planned the reunion with his friend. The "good good" buddies pose for photographs.
Please fill in your e-mail so we can share with you our top stories!