Beyoncé covers up with a coat during recent performance, sparking pregnancy rumors
While Beyonce takes the world by storm with her husband Jay-Z by her side, fans are speculating that she might actually be pregnant with their fourth child. 
Fans of the power couple have been quick to notice that the international superstar might be hiding a growing baby bump while performing her top hits during the first few shows of her "On the Run II" tour with her husband. They took to social media to share their speculation that Queen B might be pregnant, especially after she has been covering up with rather loose clothing during the shows. 
While Beyonce has been used to wearing tight bodysuits, leotards, and revealing outfits, her recent outfit choices during the European leg of the tour have been rather different, with capes and extra cloth covering her stomach area. 
To add to her unusual coat and cape cover ups, fans have been noticing the singer's bloated appearance, and many have assumed that she is actually pregnant, or that she had a couple of drinks prior to her shows that made her look more bloated than usual. 
But beyonce is DEFO pregnant pic.twitter.com/wBPO4aF8Ro

— Chloé (@chloemilne96) June 9, 2018
Is @Beyonce pregnant or simply bloated ? pic.twitter.com/JmYqKaNYy5

— Tiny Thama (@TLuvhimbe) June 10, 2018
Their tour, which has a total of 48 shows around the world, recently kicked off in Cardiff, UK, and has been going around different European cities. Fans have been applauding Beyonce's guts for going on tour despite being "pregnant", saying that it is the "biggest motivation in the world". With the Carters being open about loving the number "four", fans also speculated that they were going for their fourth child, and that Beyonce has all the coats she needs to cover up during the tour.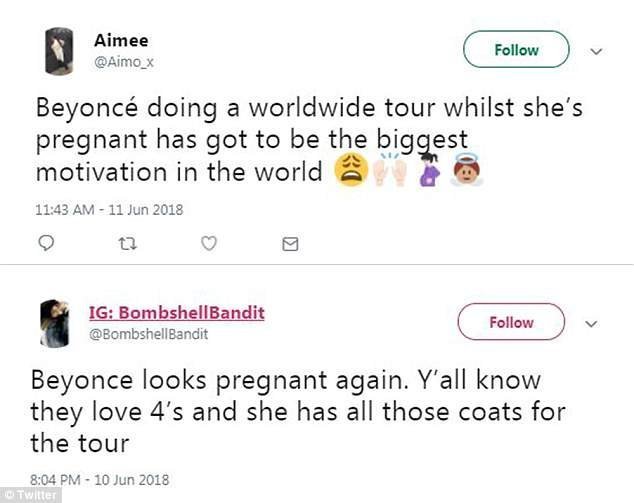 Amid rumors of the Carters adding another baby to their bunch, the proud parents have recently celebrated the first birthday of their twins Rumi and Sir, despite not being able to celebrate with their children physically given their tour schedule.  They also share a daughter, Blue Ivy Carter, 6, who has been spending a lot of time with her grandmother Tina Knowles while her parents are away.