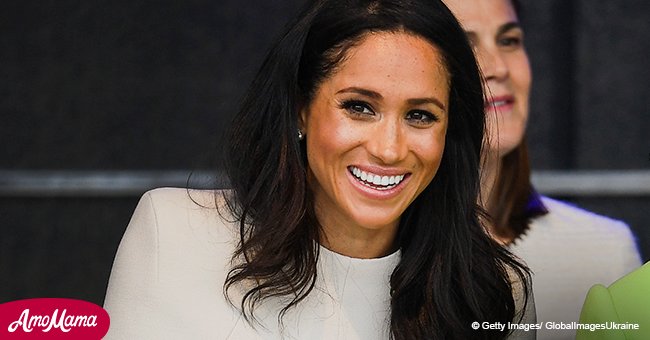 Meghan Markle wears cream dress during Royal visit with the Queen in Cheshire
The new Duchess has dived straight into her first lot of royal duties, and has already embarked on a major first with her new grandmother-in-law.
Meghan, Duchess of Sussex, married into the British Royal Family less than a month ago when she and Prince Harry tied the knot, but she has already started making official appearances in a royal capacity.
On June 14, Meghan undertook her first solo journey with the Queen up to Cheshire. In order to travel to the county, Her Majesty and Her Royal Highness took the royal train.
Along with being her first outing with the Queen without her husband, the Duchess of Sussex also became the first of the younger generation of royals to board the train in an official role.
With the pressure on right in front of the monarch, Meghan had to navigate the many royal rules, including those that govern the dresscode.
But she had nothing to fear, as she looked the picture of elegance when she stepped off the train behind Her Majesty in Cheshire.
The new Duchess opted for a cream dress by the same designer that created her custom wedding dress, Givenchy. The garment, which fell just below her knee, featured a pencil cut skirt and a cape top that ended above her elbows.
She tied a thin black belt around the dress at her waist, and completed the look with a pair of pointed black pumps and a black clutch bag.
Meghan left her hair hanging loosely about her shoulders for the occasion, and was all smiles in her natural makeup as she started her first outing with the Queen.
While in Cheshire, they were scheduled to officially unveil a new bridge in Widnes, Cheshire, as well as opening the Storyhouse Theatre. Following their duties, they enjoyed a lunch together at Chester's Town Hall.
During the course of the day, the royal pair also watched a children's dancing performance, and they were seen chatting and laughing happily along with one another.
The train left London on June 13, with Meghan and Queen Elizabeth on the train overnight for their 165-mile journey to the county.
Please fill in your e-mail so we can share with you our top stories!