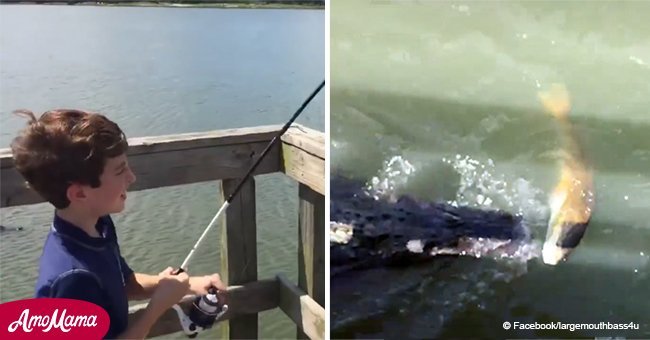 Large alligator snaps fish off a hook mere feet away from anglers
Young fisherman Connor learned how the food chain in nature does not care about the morality of stealing.
Last year, Fishing enthusiasts on Facebook posted a video of a young 11-year-old boy, Connor, who was in the company of two adult fishing enthusiasts and had reeled in a big fish on the docks of John's Island, South Carolina.
One of the adults was Connor's father who was videotaping the proud moment of his son catching a sizable fish. Little did he know that he was about to capture one of the most startling videos in fishing.
As Connor reeled in the fish, the other adult noticed some movement in the water from the other side of the platform. As the fishing rope got closer to Connor and his team, a large alligator snapped on to the fish.
Connor and his father were stunned to see the alligator come out of nowhere and steal Connor's prize. Conner's father managed to get a good footage of the alligator who merrily swam away from the docks with his meal.
Connor's father later realized that his other fishing companion was tapping on the platform to scare away the alligator from the fish. However, the alligator had his eyes on the prize and did not deviate from his path.
It pinned its prey with its powerful jaws and effortlessly took the fish away from little Connor.
The video was uploaded on a Facebook page known as Bass Masters and Fish Experts. The video gained traction as soon as it was uploaded and became viral. The video is still being shared, a year after it was posted.
The stunning video has over 12 million views on Facebook and over 14,000 comments by fishing enthusiasts and people from different walks of life that were shocked by the imagery.
One user, Oscar Damminger, said that this story beat any other fishing story he had heard in his life. He said that the adventurous outing and the nice weather inspired him to go fishing on the day he saw the video.
Another user, Loz Mills, shared that a similar incident happened with him at the same location. Although he wanted to fight back for his catch, he wisely decided to let go.
Read more fishing stories on our Twitter account @amomama_usa.
Please fill in your e-mail so we can share with you our top stories!