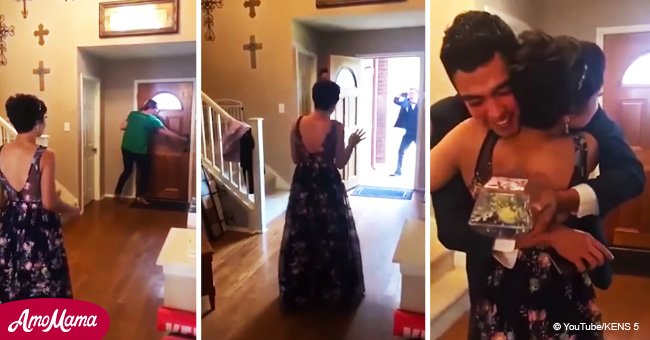 Teen unable to walk for 10 months surprised prom date by taking her first steps
Tarik Garcia was surprised by 18-year-old Morgan Coultress, his prom date, when she walked for the first time in 10 months.
CBS4 reported that the teenager from San Antonio, Texas, shared the surprise on Twitter on April 29, 2018.
Coultress had not been able to walk for 10 months due to a conversion disorder that affected her leg function. She became an inspiration to many across the country after her video went viral on social media.
However, she decided to surprise her prom date by getting back on her feet when he dropped by to pick her up.
The beautiful moments were captured on video and shared on the micro-blogging site. The video has since gone viral and has garnered more than 14 million views.
The clip beings with the teenager waiting at her home for her date. The front door opens revealing Tarik Garcia, whom she calls one of her best supporters.
He does not seem to register anything surprising at first, but when she takes a couple of steps towards him, he is amazed.
"At first, he didn't respond right away, so I was like 'Okay when is he going to realize I'm walking?' And then he backed up and made the 'Oh!' and then I was like 'There it is!' I felt so accomplished and joyful."
Morgan Coultress, CBS4, May 1, 2018.
Garcia then comes running towards her and the two hold each other in an embrace. Tears of joy roll down the young couple's cheeks.
A senior at Health Careers High School, Coultress was diagnosed with conversion disorder after undergoing a surgery in June 2017. She has not been able to walk since on her own since then.
Coultress herself was honored that evening by being named prom queen at her school. The teenager said her next goal was walking on her own for her graduation a couple of months later.
Please fill in your e-mail so we can share with you our top stories!