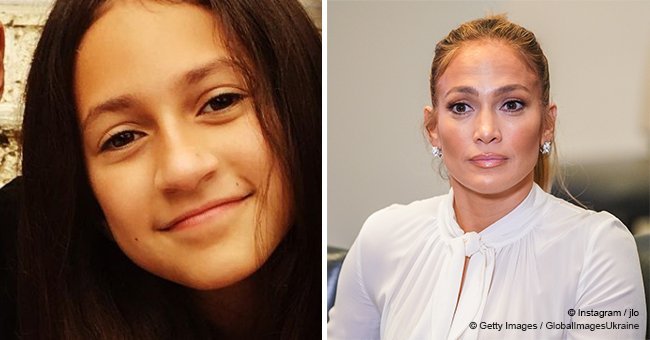 Jennifer Lopez's daughter Emme performs to mother's songs at dance recital
Singer, dancer and actress Jennifer Lopez, 48, may have a rival in none other than her cute 10-year-old daughter
On the 13th of June 2018, Jennifer Lopez attended her daughter's dance recital accompanied by Emme's twin Maximilian, former husband Marc Anthony, and her boyfriend Alex Rodriguez. Also taking part in the recital were A-Rod's two daughters 13-year-old Natasha and 10-year-old Ella.
The star posted several family photos on Instagram with Anthony and Rodriguez and captioned them in Spanish: #familiaprimero - which translates to "family first."
Fans loved seeing the relaxed and happy extended - and very modern - family getting along so well despite Lopez and Anthony's divorce in 2014.
To make the occasion even more perfect, Emme and her friends performed to her mother's music and the proud Lopez posted a Youtube video of the event
I'm forever grateful that I didn't have kids until later, you know. I almost thought that it wasn't going to happen for me, so I'm very aware that I was blessed with that (***) and so I don't take it for granted one day."
Jennifer Lopez, CloserWeekly.com, 13th of June 2018.
While her daughter strutted her stuff to 'Jenny From The Block', Lopez can be heard on voice over on the video filmed with her phone saying "They're killing me right now!"
Rodriguez' girls Ella, and Natasha were dancing like pros too, and according to their father, they too are massive J-Lo fans.
The former New York Yankees baseball player shared a photo of himself, Lopez, Anthony, and Emme captioned "Natasha, Ella & Emme dance recital. #familia."
Lopez and Rodriguez started dating in 2017, and from the beginning, they made a point of sharing time with their children as a couple.
Read more about Jennifer Lopez and her family on our Twitter account @amomama_usa.
Please fill in your e-mail so we can share with you our top stories!