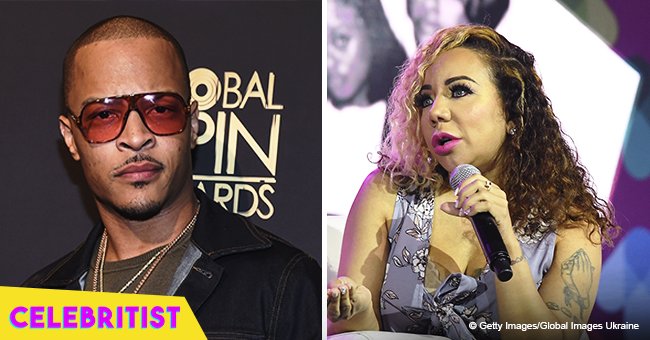 Tiny slams T.I. for mentioning his 'side pieces' and criticizing marriage
After overcoming an affair that almost wrecked their marriage, rapper T.I. and his wife Tiny seem to be in trouble again if the rapper's cryptic message is to be believed. T.I. took to Instagram to pose some questions and offer some wisdom about marriage and some fans think the couple could be quarreling again.
First was the alleged affair with Bernice Burgos that T.I. and Tiny worked through. Now, new questions posed by rapper T.I. made fans wonder whether there could be trouble in paradise. It started when the rapper pondered loudly the value of marriage to a man. "What exactly does marriage offer men today? He asked. He went on to pull what sounded like an excerpt from a book. 'Men know there's a good chance they'll lose their friends, their respect, their space, their sex life, their money and — if it all goes wrong– their family."
Tip went on to explain his thoughts before anyone could jump to conclusions;
"Note to women: Happiness needs no validation… The Ego does. Most women out there nowadays just wanna be married to impress they friends, family (side pieces) and fit into society's standards. THATS NOT LOVE!!! That's how you end up stuck with someone YOU THOUGHT YOU WANTED!!!! No matter what… Whatever you do… Do what you do to make YOU HAPPY!!!"
A fan sought clarification to this rather confusing message by asking; "Okay! But marriage is STILL a great thing with the RIGHT person and HARD WORK! Agreed?" The rapper responded; "Certainly…agreed. So is the Bible but people still use it as a manipulation tactic. There are so many perspectives to consider on the subject."
While this message does not indicate whether or not the rapper is happy in his marriage, it did get the attention of his wife, Tiny. She tagged a clip of Snoop Dogg talking about rappers and their love lives. "I look at all the rappers in the game that have wives. That have strong women in their life. They're stable up top too. they're mentally strong," Snoop said in the clip. Tiny's caption was short and to the point; "Crown the KING who knows that his QUEEN is the most important piece on the board. #chessnotcheckers #CHECKMATE."
The queen has stated her stand.
Please fill in your e-mail so we can share with you our top stories!