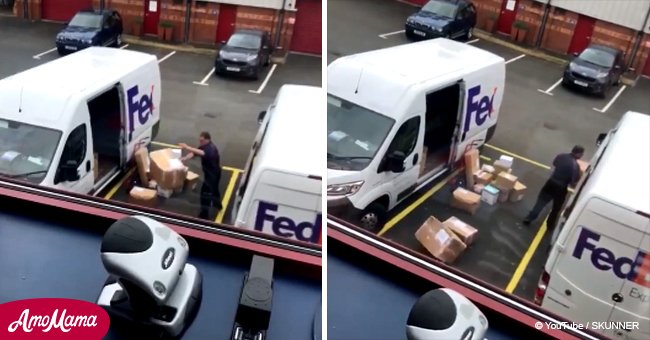 FedEx workers filmed kicking and throwing customers' parcels
A shocking video surfaced on the internet showing a FedEx worker violently hurling customer parcel packages on the floor.
The video was uploaded on Youtube by a user with the username 'Skunner' on Thursday, June 14. The uploader claimed that they witnessed the workers displaying the same behavior every morning outside his window.
The workers were captured on camera from an office that overlooked a business park in Dundonald, Ireland. It showed one of the two men chucking a small package that landed on the ground.
The other employee who stood outside the van was also captured kicking the other packages on the floor with his right foot to group it with the other parcels.
Moments later, the employee inside the van threw a bigger package towards the second employee.
The second employee caught the package and it seemed like he was reading the label stuck on the package. He threw the package a few feet away as it bounced along the tarmac.
The employee threw another package in a similar manner and launched it across the car park. On a closer look, four of these parcels had the fragile warning tape on it.
The uploader's motive to share the video on the internet was to warn people who might send their parcels via the courier company.
The video was viewed over 40,000 times and received a lot of concerned comments. One user, Connie Sax, hoped that the employees were fired and charged with destruction of property.
Another user, Betty Jenkins, said that she could not understand the aggressive behavior displayed by the employees especially with so many cameras around.
According to Daily Mail, FedEx spokesperson released a statement to Mail Online and said that the behavior seen on the video was not consistent with the professionalism of FedEx employees.
The company has launched an investigation and assured that the individuals in the video will no longer serve as employees on behalf of FedEx.
Read more such stories on our Twitter account @amomama_usa.
Please fill in your e-mail so we can share with you our top stories!