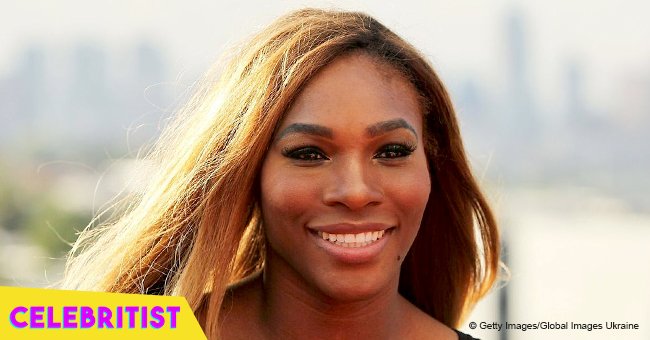 Serena Williams' look-alike daughter looks busy while playing with plastic bag
The tennis champion's adorable baby girl has been stealing hearts all over social media thanks to her mom's videos and photos. In a recent clip, Olympia is entertained with a plastic bag, days before she visited Disneyland for the first time.
Serena Williams has been going through a rough patch in the tennis department. After more than a year away from the clay, Williams' performance has been letting down some of her fans. And just when she seemed to be going in the right direction after winning three matches in the French Open, a pec injury forced her to retire from the tournament.
However, the 36-years-old now has another reason to keep a positive attitude in life: her daughter Alexis Olympia.
The little girl was born in September 2017 through a C-section that caused Serena some complications. She had to undergo surgery to avoid blood clothes from reaching her lungs and spent the first 6 weeks of motherhood in bed.
But like the great champion she is, Serena recovered in time to start training for her big comeback to the WTA.
Her daughter and her husband, Alexis Ohanian, have been traveling with her to be her biggest cheerleaders, and whenever Serena is not practicing or playing, she's spending quality time with them.
In a recent clip shared to her Instagram stories, Williams showed the world how her adorable nine-months-old daughter played with a plastic bag as if it was the most interesting thing in the world, despite being surrounded by toys.
Little Olympia has been stealing hearts around the world thanks to the adorable photos and videos Serena shares on social media with her.
Just a few days ago, after the 23-times-Grand Slam champion announced her withdrawal from the French Open, she cheered herself up by taking her family to the happiest place on earth, in Paris.
"Do you know where we're going lil' mama? We are at Disneyland Paris!" said the tennis star to her daughter in a clip.
Even though she won't probably remember the trip, Olympia visited the amusement park for the first time in the company of her parents and her grandmother, Serena's mom. The little girl got her first ever Minnie Mouse sequin headband, and her mom was clearly excited about it.
Speaking to Vogue Magazine for her 2018 cover interview earlier this year, Serena opened up about how motherhood has been a dream for her before tennis was even a possibility for her, saying:
"Now that I'm 36 and I look at my baby, I remember that this was also one of my goals when I was little, before tennis took over when I was still kind of a normal girl who played with dolls. Oh, my God, I loved my dolls."
She knows there's a lot of expectation around her career. She holds 23 Grand Slam victories, and winning two more would make her the undisputed greatest of all time, surpassing the record held by Margaret Court with 24 victories.
"Maybe this goes without saying, but it needs to be said in a powerful way: I absolutely want more Grand Slams. I'm well aware of the record books, unfortunately. It's not a secret that I have my sights on 25," she admitted.
Handling motherhood and the pressure of meeting the expectation of her fans is hard, but for Serena, the birth of baby Olympia changed her life for the best. Now, all the anxiety she used to feel before a match is gone because she knows there's a baby waiting for her at home.
"I don't need the money or the titles or the prestige. I want them, but I don't need them. That's a different feeling for me," she concluded.
Please fill in your e-mail so we can share with you our top stories!