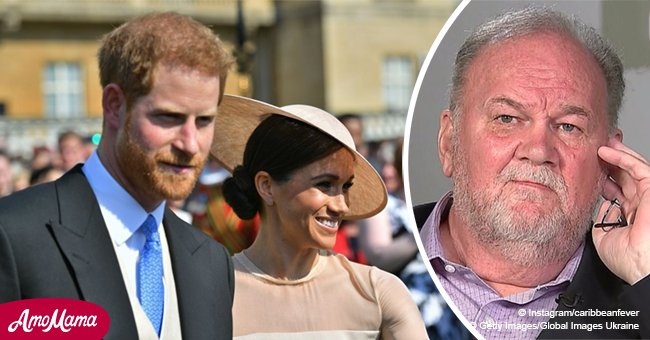 Duchess Meghan's father thinks Royal couple will have kids 'soon'
Thomas Markle Sr., the father of the current Duchess of Sussex, revealed that Prince Harry asked for his blessing before the wedding and that he regretted not going to the ceremony.
Along with the FIFA World Cup, the Royal Wedding, which took place on May 19, 2018, will be remembered as one of the biggest events of 2018, and Markle missed the opportunity to be a part of it.
During an exclusive interview with Good Morning Britain, the 73-year-old told Piers Morgan and Susanna Reid that he talked to the Duke of Sussex over the phone a handful of times.
Markle Sr. answered the co-hosts questions best as he could and revealed some intimate details his conversations with Megha and Harry, as well a their plans of having children sooner than later.
According to Markle Sr., Meghan asked him to call Harry by the first letter of his name in order to keep other people from knowing who they were referring to.
He. recalled that when Harry asked for his blessing, he told the Prince that he was a gentleman, and that 'if he promised to never raise his hand' against his daughter, that he would have his blessing.
Not going to the wedding was the most heartbreaking moment for the proud father, who revealed that Meghan cried when she learned that he wouldn't be able to walk her down the aisle.
The 73-year-old had a stroke a week before the Royal Wedding and his doctor advised him not to attend the ceremony, considering that it would be too stressful for his weakened heart.
At one point, Markle Sr. confessed that he was 'jealous of Prince Charles for taking Meghan's arm at St. George's Chapel, but was also thankful that he had agreed to replace him on his daughter's special day.
But not being part of history was what bothered Markle Sr. the most. Knowing that he had passed the chance of being part of one of the greatest moments in the Royal Family's history was something that truly upset him.
Although Markle Sr. missed the Royal Wedding, he wasn't the only one left out. His son and daughter, Thomas Markle and Samantha Grant, Meghan's half-siblings, also didn't attend the ceremony, especially because they weren't invited.
If you are interested in learning more about Thomas Markle and his side of the family, please consider following us on our Twitter account @amomama_usa.
Please fill in your e-mail so we can share with you our top stories!