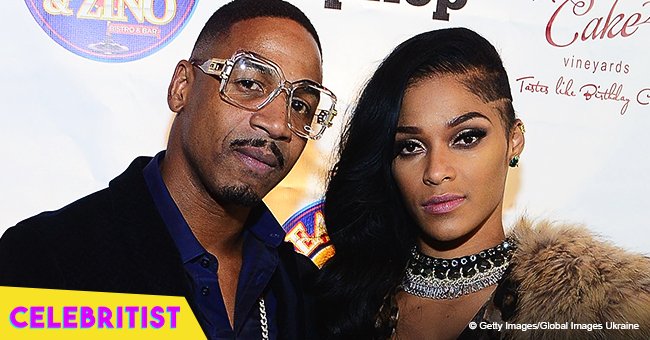 Joseline Hernandez & Stevie J's daughter dances salsa in white with new hairdo in video
The proud momma shared a video of her sweet little girl dancing a jig to some music in a new social media post on the special occasion.
Joseline Hernandez's 18-month-old daughter, Bonnie Bella, is just too cute for words. In a short video, the reality television personality showed her little girl dancing tentatively along to a Latin American tune.
Hernandez posted the video clip to Instagram on Father's Day, with a congratulatory message to all fathers on the special day.
Bonnie was wearing a long white dress in the video clip, and the little one appears to be apprehensive of the camera pointed at her. But after a while she starts to move her feet awkwardly along to the rhythm.
Within just two days, the post had been viewed over 900,000 times, and had more than 50,000 likes.
Bonnie Bella is the daughter of Hernandez and record producer Steven Aaron Jordan, better known by his stage name, Stevie J. She was born at the end of December 2016.
Hernandez and Jordan are no longer a couple, and were embroiled in a bitter custody dispute shortly after the little girl was welcomed to the world.
Fortunately for her, she was granted full custody of her only child, and moved to Miami, Florida, to get away from the drama of life in Atlanta, Georgia.
Since the move, Hernandez has focused on her music career and her fitness business, and spends plenty of time sharing adorable photos of her only child dressed up in mother-daughter outfits with her.
Sadly, plenty of her photos have also drawn harsh criticism from her haters, particularly when it comes to the way the little girl's hair is styled.
One commenter wrote "Y would she do this to this baby..smh.." while another added: "she may be "fine" but her edges aint. If you even HAVE edges I'm sure they're in desperate need of hair gel and a toothbrush."
Luckily, there were plenty of people who came out in defense of Hernandez and her beautiful little girl.
"It must be heartbreaking for a mom to see people talking crazy about her child. And I know most people just gone say they don't care about other's opinions, but people are just cruel. If you don't have anything nice to say then just don't comment," wrote omojayk.
Another fan added to that, saying: "To see comments on this post that speak negative of this beautiful child who is very well taken care of by her mother and dressed appropriately is sad."
Please fill in your e-mail so we can share with you our top stories!