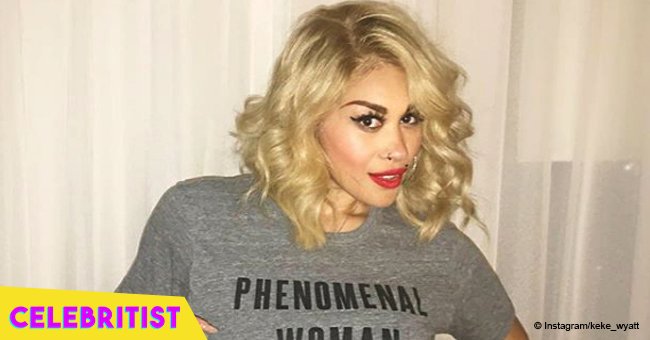 Keke Wyatt shares close-up pic of 9th baby after husband filed for divorce while she's pregnant
KeKe Wyatt shares an adorable close up photo of her ninth baby, whom she named Kendall Miguel. This comes after her husband filed for divorce while she was pregnant with their child.
Last year, KeKe and her husband Michael Ford made headlines after she announced that Michael was asking for a divorce. To make things much worse, she was with child when he asked to separate, and they also have another child who is battling cancer. The former R&B diva even shaved her head in solidarity with her child.
According to a video filmed by Wyatt herself, Ford was asking for a divorce because she was an "emotional wreck".
"When you 8 months pregnant and you got a child sick, in and out of the hospital, and your husband got the nerve to tell you that he wants a divorce. Because… he says that you're an emotional wreck. He says that from the very beginning you never trusted me and all that kind of stuff. [...] I'm so done with Michael Jamar."
While KeKe is currently focusing on trying to be a good mom to the newest addition to her family, she has also been trying to deal with the fact that her son is currently battling cancer. To show support for her son, the loving mother also decided to shave of her hair, hopefully to make her son feel a little bit better.
Sadly, despite what was happening to their son, her husband still pushed through with him asking for a divorce.
KeKe was first married to Rahmat Morton til 2009, but she ended the relationship due to her husband being physically abusive of her. In 2010, she married her second husband Michael Ford. In 2015, Madamenoire reported that Wyatt still doesn't trust men fully, including her husband, and that is something that eventually dented their relationship, when Ford ultimately filed for divorce after saying she was an emotional wreck, and because she never trusted him.
Since everything that has happened, KeKe has been in a much better place, trying to focus on taking care of her children, and also on her music career. Now that she is separated from her husband, she is going to need extra income to provide for her eight children, especially if she is to be given full custody of all of them.
Please fill in your e-mail so we can share with you our top stories!