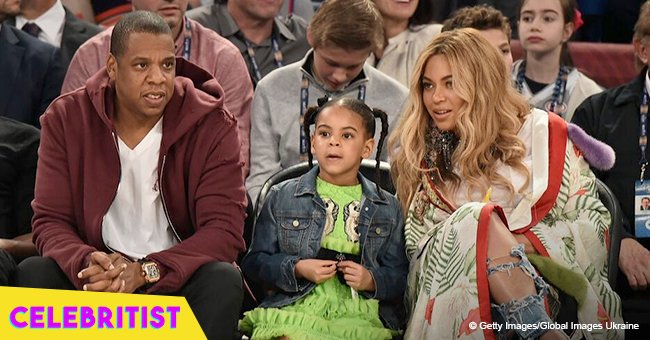 Blue Ivy seems disturbed on seeing her parents' risqué photos in video from concert
For every child, watching their parents intimate moments is a nightmare, and Blue Ivy is not the exception. The adorable six-years-old was caught on video reacting to an interlude clip projected at her parents' concert, and she didn't like what she saw at all.
Beyoncé and Jay-Z are currently traveling around the world with their "On The Run II" tour, and since they don't like to be away from their kids for long, Blue Ivy and the twins, Rumi and Sir, are traveling with them.
The couple, who has always been private about their family and their love life, decided to give fans a little taste into their lives. The photos of their tour book, and homemade clips that are projected on the big screen throughout their powerful concert, have been making the rounds on social media.
From clips of Beyoncé pregnant with the twins, their vows renewals and moments with Blue Ivy, to more intimate clips of the couple in bed and getting a little high rated, the Carters have been allowing fans a look into their private life.
And while most members of the Beyhive and Jay-Z's fans absolutely loved the new content from the power couple, there was a member in the audience at one of their recent shows who wasn't enjoying the clips at all.
Blue Ivy was caught on video by a fan watching her parents from the sidelines, and while she enjoyed most of the concert, being embarrassed by a shoutout from her mom in one opportunity, once the interlude video that shows her parents on bed came on, she couldn't contain her disgusted face.
A mortified Blue is seen making a hilarious expression to the screen until she can't clearly take it anymore and hides behind the barrier to not watch her parents in compromising positions. Her friends keep on looking, and when they realize Blue is hiding, she just keeps on avoiding the screen.
Blue's reaction made fans laugh, mentioning that the girl seems to have a future in acting with her amazing facial expressions.
The six-year-old girl has earned a reputation of being a little boss lady and the only person alive who can shush her parents and chastise her grandmother without consequences. Is clear that Blue Ivy is being raised to stand up for herself, and she's already a strong, smart girl like her mom, but she's also pretty funny.
We understand Blue's reaction perfectly, no one wants to see their parents in bed.
Please fill in your e-mail so we can share with you our top stories!