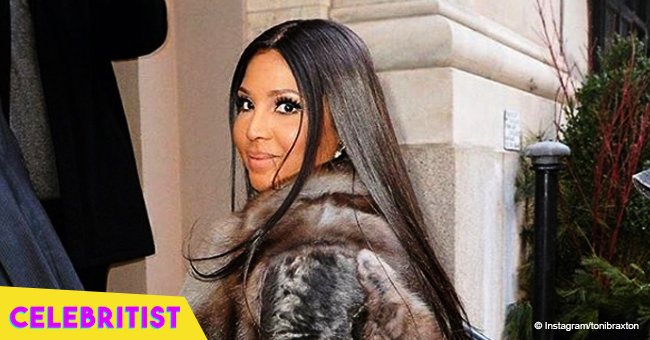 Toni Braxton shares new photo with father after plastic surgery rumors
Toni Braxton is looking amazing these days, and the proof is in one pic she shared with her father recently. Despite facing rumors about getting a nose job, Toni is ignoring the comments and focusing on rebuilding a relationship with Mr. Braxton.
Braxton, who first became famous singing in a group with her sisters, recently released her eighth studio album "Sex & Cigarettes," after being away from the music industry for almost ten years. She has been promoting her single and upcoming tour these days, but she still has time to share with her big family.
Just last week she and the rest of the Braxtons attended Tamar's son's birthday at Disneyland, and while people are used to seeing the sisters hanging out together, some people were surprised to see their father, Michael Braxton, was part of the celebration.
Toni even shared a beautiful photo with the man for Father's Day, which speaks volumes about the status of the girls' relationship with the man in comparison to last year. Michael, a minister that cheated on his wife for nine years, broke his daughters' hearts when they found out he had another woman.
Fans of the reality show "Braxton Family Values" were able to see the drama that went down when Michael introduced his new wife to the girls, and the resistance some of them had to accept that their father had moved on with his life.
However, it seems like the family has been working on fixing their relationship, and we're glad to see the Braxton sisters welcoming their father back into their lives with open arms.
Toni has been focusing on her career, her family, and health these days, ignoring the hateful comments she has been getting after she posted a photo where her nose seems to look different. People assumed she had another surgery since she had a rhinoplasty in 1993, and were filling her social media with comments about it.
However, while Toni didn't address the rumor herself, her sister Towanda set the record straight speaking to TMZ, as she said:
"Toni has lupus. So when you're on lupus, you take steroids. And with the steroids, it fluctuates your weight. Sometimes she has to be on steroids, sometimes she has to be off steroids. So it fluctuates the weight. And because she has lupus she can't have anything foreign in her body. So Toni can't get Botox, she can't get any of that because it's synthetic. Anything synthetic can make her sick."
Towanda also added that people just can't fathom the idea of Toni being 50 and still be looking amazing, so they have to create rumors about her getting plastic surgery.
Please fill in your e-mail so we can share with you our top stories!