Tiffany Haddish flashes her slender legs in silver gown with tulle train on the red carpet
Tiffany Haddish, who became the first African-American woman to host the MTV Movie & TV Awards, wowed many by showing her gracefully slim legs on the red carpet.
Haddish put on a silver dress with a beautiful design on the upper part. However, the most important aspect of it was its lower side as it had a long semi-sheer tail and a sexy leg slit that put her legs on display.
It was not the only gown that the actress and comedian wore during the night. As the host, she was prepared with many other dresses, including a huge green one and a form-fitted white one.
As BET reported, even though it was the very first time Haddish hosted such an event as the MTV Movie and TV Award, she did an awesome job.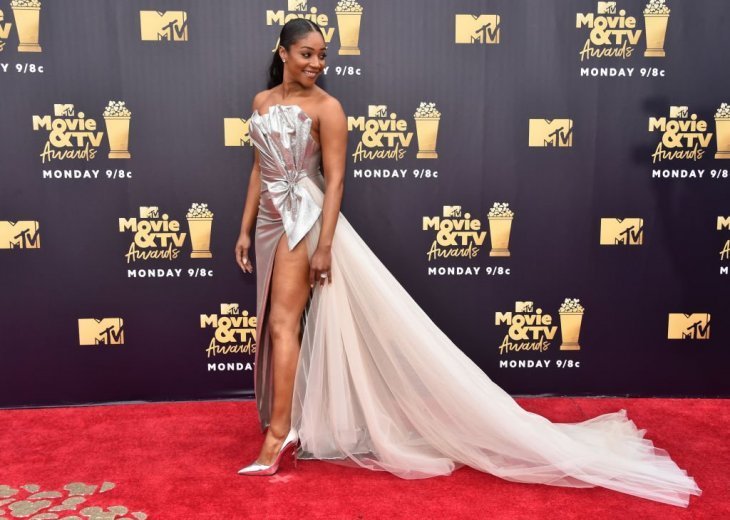 Haddish made several jokes throughout the night to make sure that there was never a dull moment during the ceremony. Some of the things she did was roasting the Kar-Jenner clan and performing Bodak Yellow in a 'spoof' way.
Another thing she did to entertain the audience was using fashion as part of her act. At the beginning of her monologue, Haddish put on a white dress very similar to the one Cardi B wore on Saturday Night Live, where she revealed her pregnancy.
Only minutes later, she said that one of the stars of Black Panther Michael B. Jordan had the ability to impregnate women with just one look. When Jordan looked at her, her dress began to inflate in the belly section, suggesting that Jordan had actually impregnated her.
After the ceremony, the big winner was Black Panther as it won the Best Movie award. Apart from that, Chadwick Boseman, who portrayed the movie's hero, won the Best Performance in a Movie and Jordan won the Best Villain award.
Stranger Things also took home a couple of awards as it got four awards, including Best Show and Best Musical Moment.