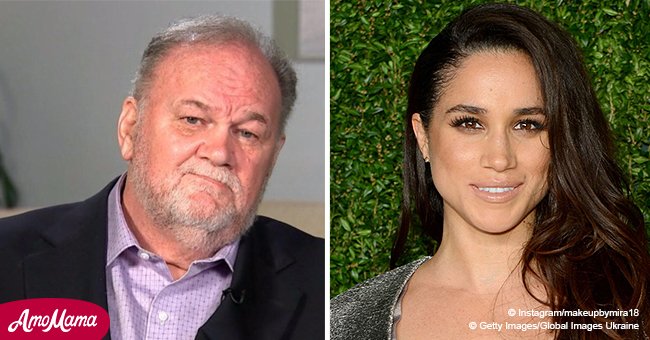 Daily Mail: How much Meghan Markle's dad was paid for TV interview
The new Duchess' father has once again decided to collude with the media without speaking to his daughter, and revealed details she would likely have preferred were kept private.
Meghan, Duchess Of Sussex, was blindsided just days before her wedding when it was discovered that her father, Thomas Markle, had been paid to pose for fake paparazzi photographs to improve his image before her nuptials.
The end result was that in the week leading up to the ceremony, Markle, who was also in ill health, decided not to make the trans-Atlantic trip to his daughter's wedding.
After dealing with the storm that followed, Kensington Palace offiials would have hoped that Markle would have learnt his lesson, and avoided speaking to the press in future about his daughter.
But now Daily Mail has reported that the former lighting director has been paid over $10,000 by ITV's Good Morning Britain to share intimate details about Meghan and her husband Prince Harry's relationship.
It seems the attention-seeking father didn't even think twice before dishing whatever he could think of.
Markle also made sure that neither his daughter, her husband, or any Kensington Palace officials knew that he was about to give the interview, so that they would be powerless to stop him.
He expressed that the Royal Family would "understand his feelings."
Markle was flown from his home in Mexico to a kushy hotel in California for the interview.
During the interview, he ironically said that it had been a mistake to collude with the media previously to take fake paparazzi photos. He claimed that he had apologized to the couple, and that they have forgiven him.
He shared that he has never actually met his daughter's husband, but that they had spoken over the phone and even discussed politics. Harry had also already popped the question when he asked Markle for Meghan's hand.
After Markle decided not to attend his daughter's wedding, Harry's father, Prince Charles, offered to walk Meghan down the aisle. Markle admitted that while he was grateful she would have someone, he was jealous it wasn't him.
Markle also decided to share that his daughter has wanted children for a while now, and assumes that she and Harry will start trying for a baby sooner rather than later.
Kensington Palace declined to comment on Markle's latest dance with the media, but it's likely that Meghan and Harry are not at all impressed with him for once again running to the press for money.
Please fill in your e-mail so we can share with you our top stories!