Simone Biles flaunts curves in pink swimsuit, lounging in the sun with boyfriend
Celebrated gymnast Simone Biles gets cozy with her boyfriend as she lays on him under the sun in her latest post. 
She made headlines earlier this year claiming she too was abused by USA Gymnastics team doctor Larry Nassar. Now Simone Biles is enjoying some stress-free time in the arms of her boyfriend as they welcome the summer together.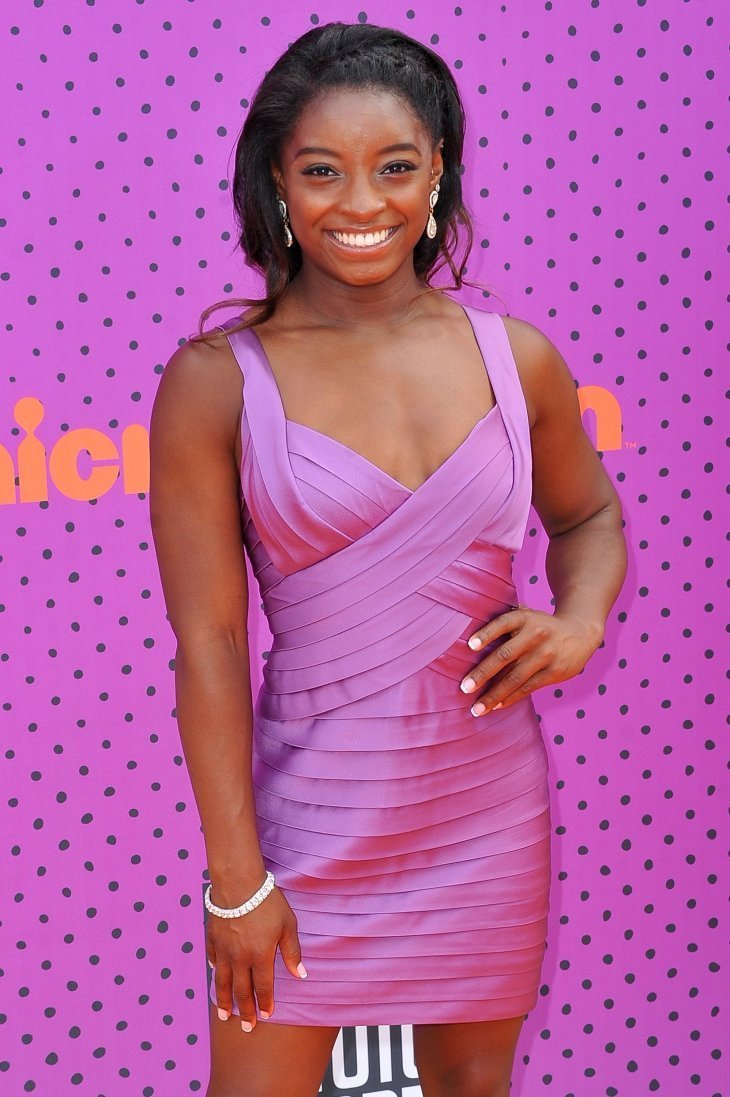 Cozy in the arms of her first ever boyfriend, the Olympic gymnast stunned in a pink swimsuit showcasing her curves. With her body stretched out on a poolside cot, the 21-year-old appeared secure laying on the chest of Stacey Ervin, the man she's been in a relationship with for 10 months now. 
Stacey tied his long hair as he lay alongside his girlfriend who looked comfortable next to him wearing a pair of sunglasses. The couple appeared to be taking a nap while soaking in the sun during their vacation. 
In August, Simone declared herself off the market when she revealed her relationship with Stacey on Instagram. Sharing a photo of the two of them, she simply wrote,
"Always smiling with you."
There was no explanation needed as Simone stared lovingly at Stacey in the photo she shared. She was wearing a black and white lace-trimmed dress as she held on to her man who stared lovingly back at her. 
The couple first met at the P&G Gymnastics Championships years ago. Like Simone, Stacy is also an accomplished gymnast who joined the US national gymnastics team in 2013. He's a four-time all American, and won back-to-back NCAA and Big Ten championships with his teammates. 
Simone and Stacey knew each other for three years prior to their romance. Due to the demands of their sport, Simone admitted she never found time to go on dates or entertain suitors. In fact, she confessed Stacey is her first boyfriend at 20 years old.  
Now it seems Simone is making up for lost time spending a lot of time with Stacey in the past months. Here's proof of their many romantic dates.   
Earlier this year, Simone found the courage to come forward and speak out about the abuses she faced under the hands of her doctor Larry Nassar. Her confession came more than a year after dozens of gymnasts complained about the doctor for sexually abusing them during their examinations. In her part, Simone admitted it took her a while to draw strength to speak up saying there were many reasons that made her reluctant to tell her story. But when she finally did through a long tweet, she said, 
"For far too long I've asked myself 'Was I too naive? Was it my fault?' I now know the answer to those questions. No. No. It was not my fault. No, I will not and should not carry the guilt that belongs to Larry Nassar, USAG, and others.
"After hearing the brave stories of my friends and other survivors, I know that this horrific experience does not define me."
Simone won three gold medals during the 2016 Olympics for her individual all-around, vault and floor routines. She was also part of the gold-medal winning team at the 2016 Summer Olympics in Rio de Janeiro. She was a three-time world all-around champion and floor champion from 2013-2015, a two-time world balance beam champion from 2014-2015, and a four-time United States national all-around champion from 2013-2016. She currently holds the record of the most decorated American gymnast.