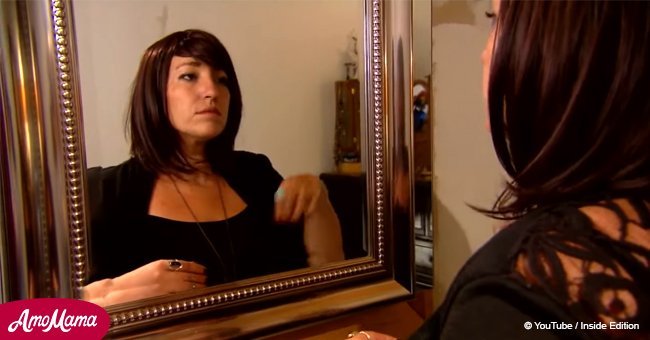 Woman scalped in terrible accident warns others after near-fatal mistake
Mother-of-four Alon Abare's attempt to repair her car turned into a terrible accident that left severe injuries and almost claimed her life.
New York resident Alon Abare may wear wigs and pretend that she did not endure a painful accident that partially scalped her, but she shared that mentally, it has been extremely difficult to cope with the aftermath.
As shared by Inside Edition, she was out checking her car for a mechanical problem one day, and like many car owners, she revved up the engine, stepped out of the car and opened the hood.
Abare, who had left her long dark hair open, leaned in under the hood flap to examine the problem. In an instant, her hair got caught in the engine.
Her hair continued to be pulled in, and she felt excruciating pain. The accident could have soon turned fatal if it weren't for her children rushing to her rescue.
Abare screamed for help and directed her children to find a pair of scissors and cut her hair and also to quickly turn off the engine of the car.
Her daughter acted swiftly, locating a pair of scissors and cutting her free, while the son jumped into the car and stopped the engine.
Looking back, Abare is in awe of the presence of mind that her children displayed, stating that they were extremely focused on saving their mother's life.
With a portion of the scalp bare and severely injured, Abare had to undergo medical treatment and was told by the doctors that her mistake of leaving her hair untied could have cost her her life.
She has been receiving treatment from Dr. Keimun Slaughter, who revealed that Abare can receive a hair transplant once the injured scalp is healed.
In light of the dangerous incident, precautionary measures were shared by auto safety expert Lauren Fix in an issue of Inside Edition.
Fix stated that it is important to pull back the hair before examining the vehicle, and remove any accessories that may potentially get tangled or caught in a revved-up engine.
She also added that the vehicle must be turned off before undertaking repair-work that does not involve the engine, like changing the air filter or switching headlights.
Read more about similar stories on our Twitter account
@amomama_usa
.
Please fill in your e-mail so we can share with you our top stories!