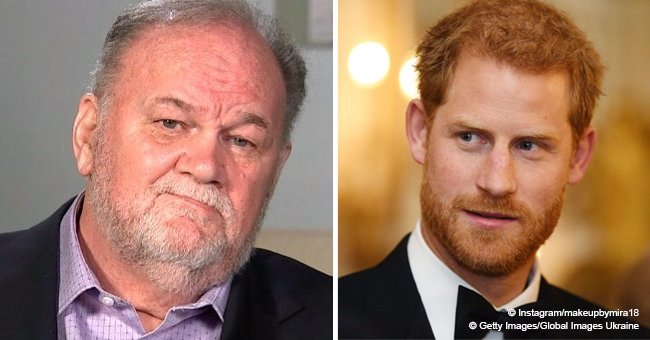 Thomas Markle shares details about 'interesting' phone call with Harry
During his interview on Good Morning Britain, Thomas Markle, the father of Duchess Meghan Markle, disclosed that he hadn't met his son-in-law, Prince Harry, in person yet.
In the video clip of the interview posted on Twitter, Thomas further admitted that the two of them have only talked on the phone. From those telephonic conversations, Prince Harry came off to Thomas as "great" and "an interesting guy."
Thomas could not attend his daughter's wedding with Prince Harry on May 19 because of his health issues but has admitted in earlier interviews that he did enjoy every moment of the royal wedding on his television set.
Now the proud father opened up about his relationship with the Duke of Sussex and his opinion of him from a few phone conversations they've had.
"It's been over the phone, always over the phone. We have yet to see each other face to face. We've had interesting conversations on the phone. He's a smart guy," he told Good Morning Britain
Thomas also recalled his first chat with the Prince and told that it was mostly about politics. Harry asked him how he was feeling that day and Thomas replied by telling that he was "unhappy with president" and "with the idea of Trump."
He further explained how he wasn't made aware of the entire situation of his daughter's romance with Harry at once. Instead, Meghan fed her information about being in a relationship with Harry in bits and pieces.
She revealed to Thomas that she had a boyfriend during one phone conversation. Then during another conversation, she broke it to him that the boyfriend was British.
During the third phone call, she told Thomas that her boyfriend was a prince. At this point, she finally dropped Harry's name.
Thereafter they finally talked about Harry, and eventually, Thomas spoke with the Prince himself. "Very nice man. Gentleman. Very likable," he further stated how he felt about Harry after the phone conversation.
Please fill in your e-mail so we can share with you our top stories!