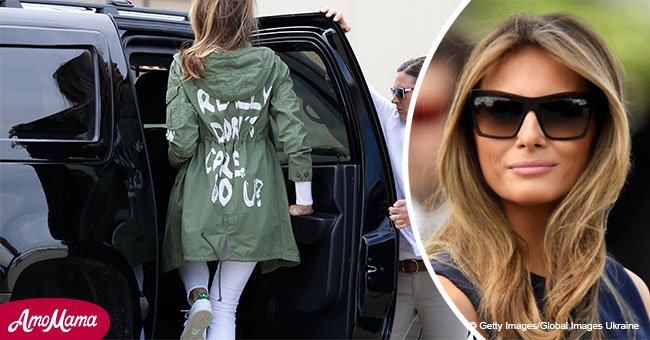 Melania Trump's office responds to uproar over jacket she wore to visit immigrants
The painful situation of immigrant children has now affected the First Lady
Melania Trump traveled unannounced on the 21st of June 2018 to see for herself the conditions under which migrant families and children are held in detention centers at the U.S.-Mexico border, a visit confirmed on Twitter by Stephanie Grisham, the FLOTUS Communications Director.
The situation of the children separated from their immigrant parents by US border authorities has raised a horrified outcry from the American Nation and the world.
In response to this, President Trump has signed an executive order to end the separation of families by allowing the detention of parents and children together for an indefinite period. Melania traveled to show her compassion for the children, but her fashion choices caused outrage on social media.
She wore a khaki-colored Zara jacket with a print on the back that reads: "I really don't care. Do u?"
"It's a jacket. There was no hidden message. After today's important visit to Texas, I hope the media isn't going to choose to focus on her wardrobe."
FLOTUS Communications Director Stephanie Grisham, Twitter, 22nd of June 2018.
Grisham pointed out that the First Lady visit to the children in Texas was with the intention of helping them, and that the media was focusing on her wardrobe, not in her effort to help vulnerable people.
The Communications Director suggested that the media's energy would be most useful focused on reaching out to the children and sensitizing people to the issue of human rights being disregarded in Texas.
The FLOTUS was not wearing the maligned jacket when she landed in McAllen, Texas. She wore the jacket when she arrived back at Andrews Air Force Base, but not during her visit to the detention centers.
Nonetheless, social media was awash with critical comments, labeling the First Lady's choice of jacket as insensitive. Melania Trump's visit to the U.S.-Mexico border to visit immigrant children was scheduled before President Donald Trump signed the executive order to stop families being separated after crossing the border illegally.
Melania had issued a statement through Grisham prior to the executive order saying that the children's suffering distressed her deeply, and that "She believes we need to be a country that follows all laws but governs with heart."
Read more about Melania Trump on our Twitter account @amomama_usa
Please fill in your e-mail so we can share with you our top stories!