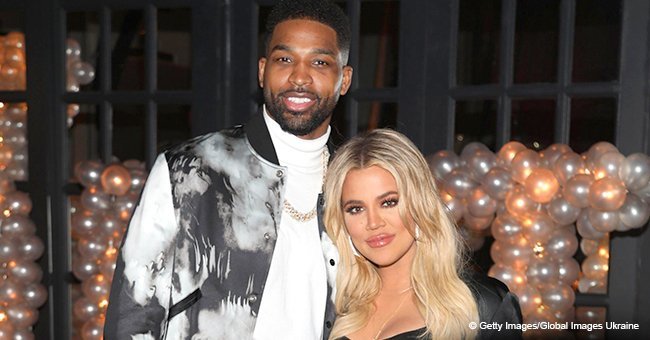 Tristan Thompson shares first picture with both daughter True and son Prince
First ever photos of Tristan Thompson and his two children are making waves on his Instagram. The sweet snaps feature the half-siblings holding hands and kissing to their father's delight.
Proud father Tristan Thompson has shared photos of his two children together for the first time. The adorable snaps which he released on his Instagram the weekend after Father's Day featured Prince and True getting along so well
Source: Getty Images / Global Images of Ukraine
It was an epic moment on Tristan's social media page on Friday when he shared memorable photos of his two youngsters seated on his lap and holding hands. The happy father had a huge smile on his face as he cradled the half-siblings who clearly showed a lot of love for each other. Two-month-old True was busy watching her hand being held by her one-year-old brother whose mother is Tristan's ex, Jordan Craig. The threesome was seated on the floor of a living room with a basketball situated between a shirtless Tristan's outstretched legs.
The sweet photo captioned with a heart emoji was also accompanied by two other photos of Prince kissing his baby sister. The loving moments captured on polaroid also featured a woman's body and arms, possibly Khloe Kardashian's, holding on to her daughter True.
Earlier in the week, Tristan also posted a photo of his new necklaces which bear his children's names. He likewise took the chance to express his love for them in his caption.
"My Prince and Princess. I love you guys so much!!!"
The series of photos comes in the heels of Khloe's return to Los Angeles for the first time since her baby's birth. She welcomed her daughter in Cleveland and has been living there since. There was no sign of family drama when she and Tristan were spotted grabbing lunch in Woodland Hills shortly after their arrival on Father's Day weekend. Judging from photos of their sighting, they seemed to have moved past Tristan's cheating scandal that threatened to rock their relationship just a few days before True's birth.
Since the controversy erupted, neither have spoken about it. But on Tuesday, it has been confirmed that Khloe will be addressing the issue on the upcoming 15th season of 'Keeping Up With The Kardashians.' It's not certain how much of the scandal will be discussed but the 33-year-old has allegedly promised Tristan it won't be a huge storyline on the show. It's also been confirmed that Tristan will not be appearing on the show at any point.
Please fill in your e-mail so we can share with you our top stories!