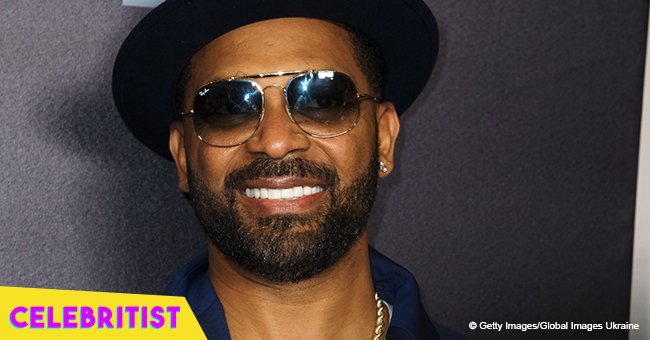 Mike Epps shares picture with much younger fiancee in tight black dress

Mike Epps shares a "throwback" photo of him and his fiancee Kyra Robinson getting all cute in front of the camera dressed up in formal wear. The actor gushes about his soon-to-be wife in the caption of his photo, saying how she allows him to be himself.
In the photograph posted last Friday, Kyra looked stunning in a figure-hugging black dress, while Mike smoked a joint donning a black suit beside her. Epps made sure to let his lady know how much he loved her, captioning the photo with "FBF [She's] so easy 2 love because she [lets] me be me!!!".
The 47-year-old comedian and his younger fiancee got engaged in May, after Mike popped the question and threw an extravagant engagement party with his family and friends in attendance.
Kyra and Mike went public with their relationship last summer, and after a year of dating, they are set to get married. Prior to his relationship with Robinson, Epps was married to Mechelle Epps, and the ex-couple shares two children together. Their divorce was finalized in September 2017, which made it legally possible for Mike to propose to Kyra.
According to a report by The YBF, Mike's divorce settlement with Mechelle includes paying her $25,000 in spousal support per month for the next 6.5 years, or until she re-marries. On top of his spousal support, he is required to pay $15,000 a month in child support, to pay for his children's private school tuition. He also splits his royalties from his blockbuster films like "The Hangover" and "Girls Trip" with Mechelle.
Now that Kyra and Mike are set to hit the aisle, the two could look forward to more projects with one another, especially since they have been working with one another while they were in a relationship.
Recently, the two collaborated to create and produce BET's "Social Media Awards" during March, with Robinson sharing with Rolling Out that since people don't really watch television as much anymore, they thought of creating the online awards show.
"These people are making careers and [an] income for themselves, so why not highlight them. It went from being a simple idea to us pitching it to BET. The rest is history."
Just like Mike, Kyra's own resume is quite impressive. She is a NAACP-nominated TV producer, and is the current producer for OWN's "Iyanla: Fix My Life".
Please fill in your e-mail so we can share with you our top stories!