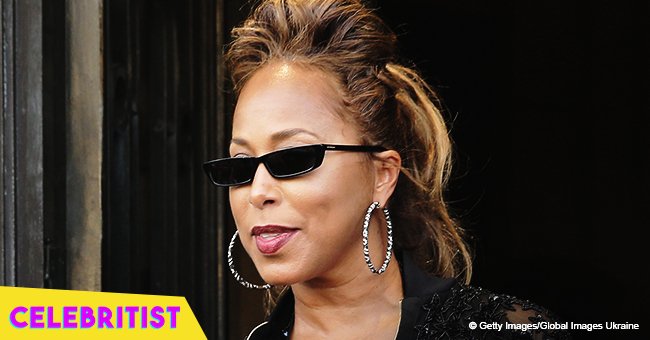 Marjorie Harvey's grandkids warm hearts in swimsuits enjoying outdoor activities with grandmother
Marjorie Harvey is one of the coolest grandmas in the entertainment industry. The fashionista and businesswoman recently spent a lovely afternoon with her kids and grandkids as they enjoyed the summer in their big backyard.
She has been married to actor and comedian Steve Harvey for 11 years, and before celebrating their wedding anniversary a few days ago, Marjorie had a fun day filled with water balloons fights, swimsuits, inflatables and more, in the company of her kids.
After their marriage, the couple brought their respective kids together, creating a big blended family that is formed by Steve's four children from previous relationships, and Marjorie's three children from other ties as well.
A few weeks ago, Marjorie invited her three kids and their respective wives and husbands to play with her in the backyard of her home, and the whole family enjoyed the summer weather and each other's company.
Lori Harvey, Morgan and her husband DJ Bruckup, and Jason and his wife Amanda looked excited and happy to be reunited as their kids played together. Elle, Morgan's daughter, and cousins Rose and Noah, Jason's kids, enjoyed a pool and inflatables with slides while the adults entertained themselves with a water balloon fight.
Marjorie couldn't stop smiling, and she shared several pics on Instagram with her adorable grandkids. In one of the shots, the three kids are seating in her lap before changing into their swimsuits. In a separate slideshow of two pics, she's posing with little Noah on a giant inflatable, and holding Elle on her feet while doing a yoga pose in another.
Harvey and her husband are months away from becoming grandparents for the fourth time, as Marjorie announced to the worlds a few months ago.
The 53-years-old fashion blogger shared the news with fans by posting an adorable video of her popping a black balloon to discover the gender of her son Jason and wife Amanda's new baby. In the clip, an excited Marjorie is wearing a leopard onesie while popping the balloon to discover blue confetti, revealing the baby is a boy.
"Our family is growing...," she wrote, "Jason and Amanda are preparing to welcome a new baby in September @artofyevrah @theamanda_h."
Marjorie and husband Steve recently celebrate their 11th anniversary with a romantic photo shoot and dinner at the beach. She posted several photos from their special day, and she looked stunning wearing a black mini dress with strappy high heels, while Steve looked classy in a baby blue suit as they posed together in the sand.
In another lovely black and white shot, Steve is hugging Marjorie from behind while they stare at the ocean. The pic gave Marjorie the chance to write down a heartfelt message to her husband that says:
"No matter what comes our way...... we face in together..... hand in hand. #harveys #blessed"
The Harvey family keeps going strong, and now that they will be welcoming a new addition in September, we're sure Marjorie and Steve are more than happy of blending their beautiful family.
Please fill in your e-mail so we can share with you our top stories!