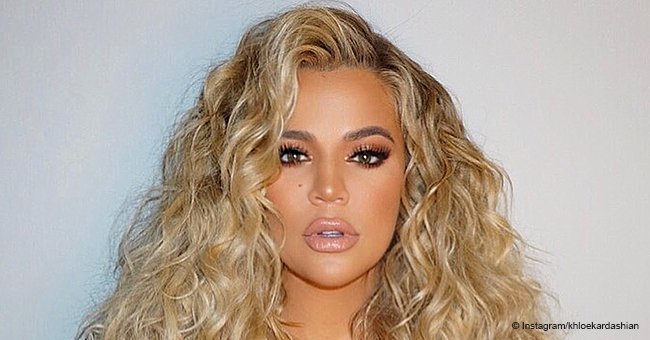 Khloé Kardashian breaks her silence on Tristan Thompson cheating scandal

When a fan posted a message wishing that Khloé Kardashian had left her husband after his cheating scandal, the star responded with strong but kind words.
Khloé Kardashian has been in the news since the story broke out that her husband Tristan Thompson had an affair with another woman days before Kardashian delivered his baby daughter True.
However, Kardashian made it clear that her personal choice to stay with Thompson after the scandal was not open for criticism, as she responded to a worried fan's tweet.
The back-and-forth on Twitter began after the fan tweeted her strong opinion on the matter, stating that although she loved Kardashian, she was taken aback by her decision to resume her relationship with Thompson
The user added that Kardashian was a hypocrite for not walking away, given that she always speaks about women and self-worth, and knowing when to call it quits on a relationship.
In the post, the user referred to the NBA star as 'that wasteman Thomspon,' and expressed her disappointment with a frowning emoji.
Although Kardashian did not promptly respond, she came back with conviction and expressed herself curtly without being discourteous.
Kardashian tweeted to the user that she had no idea of the reality of her household, and she was unaware of the effort it took to repair the damage done to her marriage.
The star added that she was proud of the strength that she portrayed. Read more about Khloe Kardashian on our Twitter account @amomama_usa.
Addressing the user's comment, she highlighted that she respected the fan's opinion, and hoped that she too respected anyone who chose to stay in situations like hers.
With this firm response, the fan came back to clarify that she was in no way trying to judge Kardashian, and reassured her that she adored her.
The user went on to explain that Kardashian's fanbase was worried about her and did not want anyone to break her heart again.
On reading the fan's second tweet, Kardashian responded with kindness, expressing love and appreciation for the fan and urging her to trust her personal decisions.
Apart from the fans of the supermodel, even her sibling Kim Kardashian has openly spoken about being worried for her sister.
Appearing on the Ellen DeGeneres Show a few months ago, Kim shared a feeling of pity for her sister, stating that it was a sad situation and that the Kardashian family was incredibly supportive to their family member.
Please fill in your e-mail so we can share with you our top stories!