The Queen's newborn great-granddaughter given a special name
Queen Elizabeth's granddaughter, Zara Tindall, welcomed her second child earlier this month. The girl's name has now been revealed!
The news was shared on Twitter by Emily Nash, Hello Magazine's Royal correspondent. She said on Wednesday that the Tindalls chose the names Lena Elizabeth. 
'Lovely nod to her great-grandmother the Queen,' Nash added. As reported by Pop Culture, young Lena isn't the only one with 'Elizabeth' for a middle name. 
Sarah Ferguson's daughter, Princess Beatrice, and the Queen's only daughter, Princess Anne, also has 'Elizabeth' as a second name. To learn more, follow our Twitter page, at AmoMama USA.
Zara and Mike Tindall have named their daughter Lena Elizabeth! Lovely nod to her great-grandmother the Queen. pic.twitter.com/SFcrCFO5Iy

— Emily Nash (@emynash) June 27, 2018
She also shares the privilege with her mother, as well as Catherine the Duchess of Cambridge and Catherine's daughter, Princess Charlotte. 
As for her first name Lena (pronounced 'Lay-na'), Nash said on Twitter that the parents just liked it. CNN's Royal commentator, Victoria Arbiter, joked that a 'lifetime of mispronunciation looms.'
According to BBC, some of the meanings of the name include 'illustrious' and 'the bright one.' As for the newborn's title, she will only be known as Miss Tindall. 
Zara and Mike Tindall have revealed the name of their daughter. https://t.co/NJUMNLHYZe

— POPSUGAR (@POPSUGAR) June 27, 2018
Chances of Miss Tindall ascending the throne one day are slim, as she is 19th in line, after her four-year-old sister Mia, her mother Zara and her cousin Isla Phillips. 
Mike and Zara welcomed Mia, four years ago, and Zara suffered a miscarriage two years later, citing Mia as their 'saving grace' for coping during that period. 
"Mrs. Michael Tindall was safely delivered of a baby girl on 18th June, at Stroud Maternity Unit. Mr. Tindall was present at the birth. The weight of the baby was 9lbs 3oz."
Official Statement, Royal, June 19, 2018.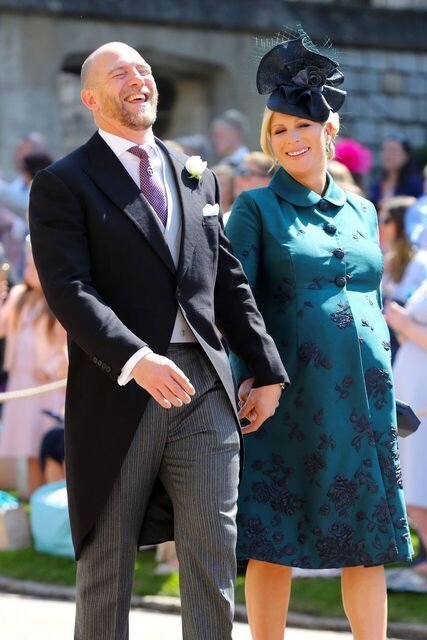 Lena is Queen Elizabeth and Prince Philip's seventh great-grandchild, and Princess Anne's third grandchild. 
According to the official statement released on Royal.UK, Mike was in the delivery when Lena entered the world at a healthy 4.16 kilograms.