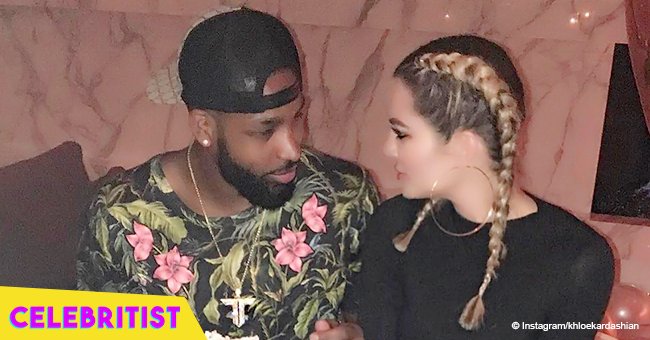 Khloé Kardashian celebrates her 34th birthday with Tristan, True, and friends in video
Some members of the Kardashian/Jenner family got together to celebrate Khloé's 34th birthday. Tristan Thompson was present even after the cheating scandal.
On June 27, Kim, Kylie, and Kendall paid a visit to their sister Khloé, her daughter True, and her boyfriend Tristan to celebrate her birthday. As usual, they took and shared several photos during the evening.
As Daily Mail reported, Khloé seemed to be delighted about being surrounded by her family while being lavished with birthday gifts and flowers from friends. However, one of the most unusual moments of the celebration happened when Kim and Tristan got together.
Kim recorded herself while being next to Tristan and, talking directly to the camera, she said whether or not she should ask Tristan to unblock her on Instagram.
She later asked Tristan if he could unblock her for Khloé's birthday. Tristan just said: 'it's only right. I got you,' but he didn't do it.
In a different video, Kim pushed the subject further and said: 'was that a yes?' After that, Kim started telling her sisters and friends in the party that Tristan would finally unblock her on Instagram.
Khloe was behind her boyfriend and told him to do it at that moment, so he took his phone out and, before typing his password, Kim peeked out to see Tristan's code, but the NBA player confessed that Khloé knew it already.
During the video, it was also revealed that Tristan blocked on Instagram Khloé's best friends Malika and Khadijah Haqq. He did so shortly after his cheating became public. Apparently, nobody knew it as they seemed to be shocked by the revelation.
Finally, Tristan was recorded from behind accessing in the app and unblocking Kim in what appeared to be their own way to solve their social media issues.
Kim took her time to joke about it by saying that she wasn't sure about following him back on Instagram.
However, she did it, which might suggest that Tristan's relationship with her and other members of the family is improving day by day.
Please fill in your e-mail so we can share with you our top stories!