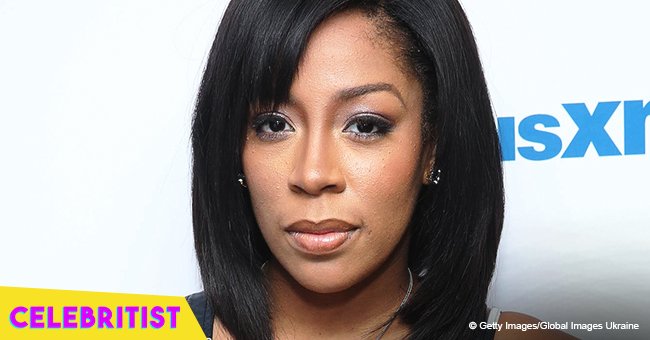 K. Michelle flaunts her body in striped shirt dress after removing illegal injections
The singer faced a serious health scare in 2017, but is finally on the mend and hopes to be completely healthy following a final surgery planned for later in the year.
K. Michelle previously wanted to have a "Coke bottle body" and found a man in Atlanta, one without a medical license, who could provide her with the implants she needed to get that figure.
For five years, she was happy with the results, until she started to become very ill as a result of the implants. It took a number of surgeries and other medical treatments to save her life.
Now, almost recovered from her ordeal, the R&B singer took to Instagram to share a photo of herself posing in front of a car.
"901 Shelby Drive, but you don't want me to bring out that side." she captioned the shot.
In the image, she wore a black and white striped wrap dress with long sleeves and a v-neck cut. The slit at her legs rose almost all the way up her thighs. She wore a pair of strappy nude sandals, and carried a green handbag.
Years ago, the actress had her breasts augmented and fat transferred from her stomach to her backside. It was after that that she found the man willing to give her 'hydrogel' injections on the black market.
It was in 2017 that she started experiencing strange symptoms that she couldn't explain. This included migraines, fatigue and terrible pain in her back and legs.
Doctors originally thought she was suffering from Lupus, but later realized that the silicone from her rear had spread down to her legs, and was damaging her tissue and compromising her health.
There is currently no definite way to remove the injections, and doctors are still trying to learn how to do so. One doctor suggested K. Michelle try liposuction, but it only ended up spreading the silicone further.
Just a week and a half later she started to experience symptoms again, and she was rushed to the emergency room. She ended up needing to undergo two blood transfusions.
"It's the scariest thing in life, and I'm a tough girl," she told People Magazine. "I had these lumps and I was very disfigured."
She underwent three surgeries in April to remove the dead and dying tissue. She hopes to be healthy enough to have reconstructive surgery in August of 2018.
Please fill in your e-mail so we can share with you our top stories!