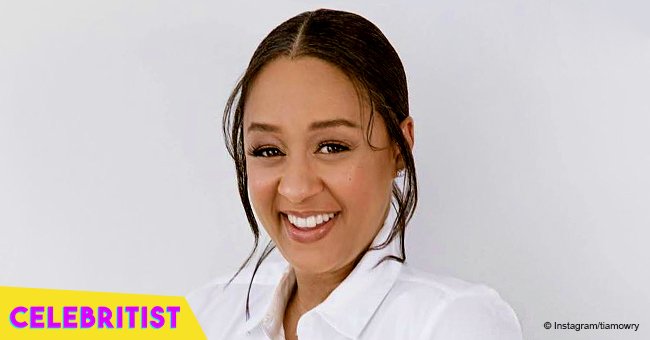 Tia Mowry melts hearts with photo of newborn daughter and son who is celebrating his 7th birthday
Actress and TV host Tia Mowry, best known for Sister, Sister, took to Instagram to share photos of her two children and herself celebrating Cree's birthday.
The first image showed Cree a couple of years ago wearing a grey shirt while looking at the camera in a very natural way as if he was not even posing for the photo.
In the caption, the proud mother confessed that Cree was turning seven that day and that her son was growing up very fast right in front of her eyes. Tia added that the joy, purpose, and motivation he has given her was undeniable.
After that, Tia pointed out that he was a 'cool dude' and the 'coolest' brother to his baby sister, whose name has not been revealed. She ended her caption by saying that she couldn't wait to celebrate.
In her next post, Tia was shown wearing a black outfit covered by a long black-and-white coat while holding her baby girl. Cree was next to his mother wearing blue jeans, a white shirt, and a pale blue blazer that made him look very elegant.
Behind the trio, several balloons in different colors were adorning the room, suggesting that the photo was taken shortly before the celebration started.
Tia's caption set that clear as she wished Cree a happy birthday and added: Let the festivities begin!' In her Instagram Story, she shared more details about the way they celebrated Cree's birthday.
The whole family went to a restaurant and ordered several sweets and cakes. Tahj Mowry, Tia's younger brother, was present. Aden, Cree's cousin and Tamera Mowry's son, also attended the celebration.
Earlier that day, Tia uploaded a short Boomerang video holding her baby. Even though the post was great, the most crucial aspect of it was her caption as the actress revealed that her daughter would be on Tia Mowry Quick Fix on June 29.
Finally, she confessed that her name would finally be revealed and that she couldn't wait for her fans to meet her.
Please fill in your e-mail so we can share with you our top stories!