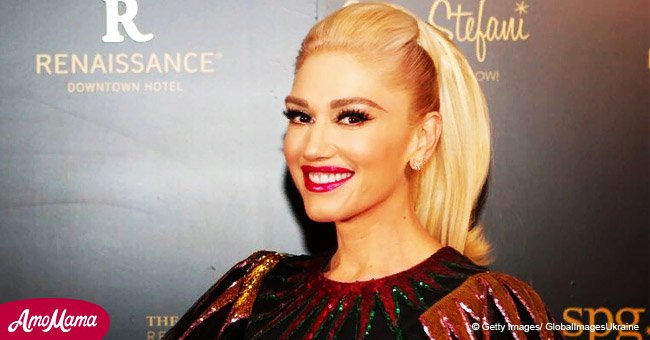 Gwen Stefani shares personal photo with Blake Shelton after Las Vegas opening night
Gwen Stefani kisses Blake Shelton after her performance in Las Vegas
Gwen Stefani debuted in Las Vegas on the 29 June 2018, and to celebrate the event she posted a photo of herself and Blake Shelton on Instagram.
In the photo, Stefani and her country star boyfriend kiss in her dressing room, backstage at the Planet Hollywood Resort.
It was her first show of the I'm Just A Girl residency at the Casino's Zappos Theatre, and Shelton was there to cheer her on.
The 48-year-old singer had her platinum blonde hair swept up into a ponytail and was wearing a metallic gold brassiere. The couple looked very happy, and very much in love.
'Dearest Gwen, Greetings from Macau, China! I wish I could have been there in person to cheer you on...'
Shelton wasn't the only star eager to show encouragement and admiration for Stefani. Her dressing room was filled with flowers sent by a star who is synonymous with Vegas residencies: Celine Dion.
Though the Canadian Diva is currently on tour of the Far East, she sent Stefani her best wishes.
Stefani was justly proud and boasted about the flowers she received from Dion, whom she admires and counts as a friend.
Stefani signed a 25-date residency deal to perform at the Zappos Theater in Las Vegas and is scheduled to conclude on March 16, 2019.
The singer is expecting packed houses for each of her shows and will be performing many of her No Doubt hits as well as her new album, You Make It Feel Like Christmas. The album was made with the collaboration of Blake Shelton, and Justin Tranter.
Since November 2015, Stefani and her The Voice co-star, country music artist Blake Shelton have been dating, but even though their fans clamor for engagement announcements, the couple keeps them guessing.
Please fill in your e-mail so we can share with you our top stories!