Caitlyn Jenner stuns in floral blouse and skinny jeans shopping with 22-year-old 'close friend'
The transgender star is looking more fabulous than ever as she strolls around Malibu with model Sophia Hutchins for an always needed shopping spree. The pair has been facing rumors about an engagement for months, but Jenner has stated they're only friends.
Caitlyn Jenner lived 60 years of her life pretending she was comfortable with being a man, but in 2015, she took the decision to face her true identity and surprised the world by coming out as a transgender woman. Formerly known as Bruce Jenner, Olympic athlete, and father of six, she has now become a transgender icon across the globe.
The reality star's life has been filled with controversy since her coming out.  Between fights with her ex-wife, Kris Jenner, her political views, and some questionable things she has said, Caitlyn is continually facing critics from fans and haters alike.
One of the recent rumors surrounding the star is related to her relationship with 22-years-old Sophia Hutchins, a transgender model that revealed to her college newspaper back in 2016 that Caitlyn was her inspiration for transitioning.
Even though is unknown how the pair met, Sophia and Caitlyn have been inseparable for almost a year now. They attend every event together and also spend their free time with each other. In fact, there are reports that state Sophia is living with Caitlyn at her Malibu hilltop home.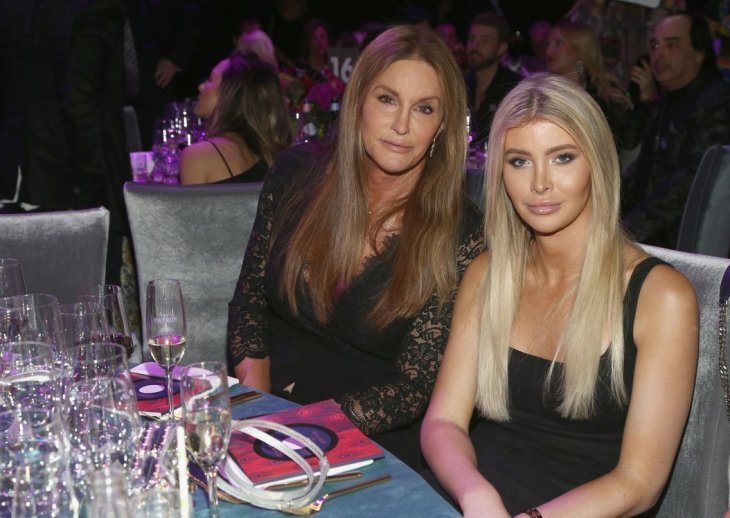 On Tuesday, the pair was photographed once again walking around one of Malibu's shopping mall, stopping at Sephora and then having a quick break at Cafe Havana.
Caitlyn looked stunning and casual in a black blouse with floral print, skinny jeans, and comfy sandals. She completed the look with a black bag and cat-eye sunglasses. Sophia, on the other hand, showed off her curves in a red printed top, black denim shorts and a leather jacket.
Caitlyn Jenner, 68, goes for casual chic in jeans and a floral blouse as she joins 'close friend' Sophia Hutchins, 22, for Malibu shopping spree https://t.co/DylOyBS2Fo

— Daily Mail Celebrity (@DailyMailCeleb) June 27, 2018
Just a few weeks ago, Caitlyn and Sophia were spotted together at the Life Ball Welcome Party in Austria, an event to raise funds and awareness about HIV/AIDS, the same weekend of Caitlyn 's son Brody Jenner's wedding.
The 68-years-old star failed to attend the ceremony, which took place in Bali, Indonesia, because of her previously scheduled commitment to the ball.
The reality star confessed in an interview with Broadly a few months ago that her relationship with her kids was not in the best place these days. "I spend a lot of time by myself here in the house," she said. "I have a lot of children, but sometimes just because of circumstances, maintaining a close relationship with your kids is very tough. They all have lives. They've all moved on."
Even though they don't seem to be as close as they were before Caitlyn's transition, Kendall and Kylie Jenner showed some love for the star, whom they still call "dad" on Father's Day. Both ladies shared heartfelt posts on Instagram to congratulate Jenner, letting the world know that they still have a lot of love for the "soul" that gave them life, as Kendall expressed.