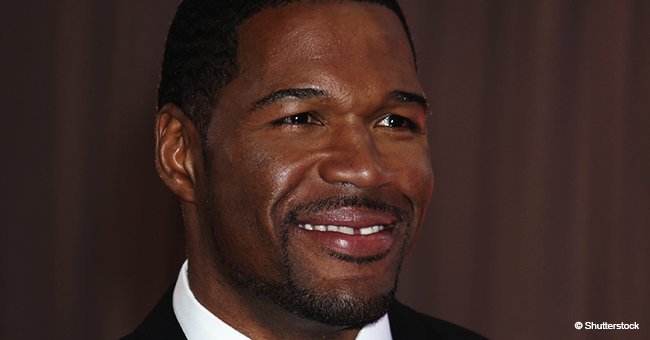 Michael Strahan stops hearts with throwback photo of his biracial twin girls at great height
The former American football player is a proud father to twin girls, who he regularly praises as an inspiration to him in their daily lives.
Michael Strahan and Jean Muggli may have gone through an ugly divorce that included allegations of serious abuse, but they have certainly continued to do a good job raising their twin daughters since.
Before the couple married, Strahan already had two children - Michael Jr. and Tanita from his previous marriage to Wanda Hutchins. After tying the knot in 1999, Strahan and Muggli welcomed Sophia and Isabella in 2004.
Despite all the controversy surrounding his divorce from their mother in 2006, which resulted in him having to pay Muggli $15 million plus $18000 monthly in child support, Strahan still spends plenty of time with the twin girls.
Although the youngest of his brood are almost 14 already, the proud papa recently took to Instagram with a throwback photo of him and the girls
Strahan captioned the image by asking his followers to guess where they were.
In the image, both little girls were wearing bright pink puffer jackets, and each was wearing a scarf: one pink with polka dots, and the other blue with colorful stripes.
Both girls and Strahan had their arms up in the air taking in the incredible view of the New York City skyline from the top of the Empire State Building.
Strahan regularly takes to social media with photos or videos of his young girls.
In 2016, speaking to People Magazine, he explained just how important his children are to him.
"My kids give me strength," said Strahan. "I love being with the kids. To me it's all about family, now more than anything."
He also explained that while Michael and Tanita were raised separately from Sophia and Isabella, the four siblings have grown close over the years.
"I'm proud of that," Strahan said. "You worry how the kids will mix and blend, but brothers and sisters are brothers and sisters regardless of different mothers."
Even after he split from Hutchins, he expressed how important it was for him to remain a part of his children's lives, and the same has been true for the former footballer since his split from Muggli.
Please fill in your e-mail so we can share with you our top stories!