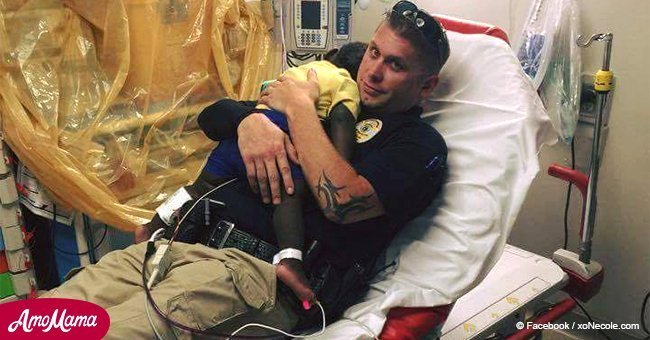 'He needed somebody.' Photo of police officer comforting little boy goes viral
Officer James Hurst performed beyond what is considered a typical police duty when he stayed and gave company to an abandoned child recovering in the hospital.
A photo posted on Facebook showed the compassionate police officer comforting the little boy after he rescued him on May 9, 2018, in Savannah.
Officer Hurst, from Savannah Chatham Metropolitan Police, received praise for his kind act after the photograph showing him cuddling the abandoned baby went viral on the internet.
Hurst, along with a few of his colleagues, was sent to check out a call from the Cuyler-Brownsville neighborhood, which is considered to be 'a rough area.'
There was a call reporting a 16-month-old boy wandering the streets. Nobody had any idea about who the boy was, how long he had been on the streets, and where he'd come from.
Watching the child wandering alone all by himself deeply moved Hurst, who has two children of his own, with one of them having Down Syndrome.
He did not waste anymore moment taking the boy to the emergency room and made sure that all the care he required was provided for.
The boy was obviously scared and confused about all the sudden activity and began to cry while the doctors examined him. The officer held him and the quickly fell asleep on his chest.
The officer initially stood while he carried the boy in his arms. It soon began getting difficult for him, with his body armor and gun belt still put on, so he sat down on the bed.
Hurst stayed with the boy on the bed for over two hours because he wanted to be there for a child who had no one else at that time.
"He was sobbing. I asked the hospital staff if I can hold him to comfort him and soothe him a little bit to try to calm him down, to continue getting medical care and they said that was fine," Hurst told in an interview with WSAV.
Although the photograph has been well received by the internet and Hurst has received wide recognition and commendation, he said that he was quite surprised by all the reaction.
For him, he had done a very normal and natural thing by comforting a distressed child.
The child was found to be in good health and the case was later turned over to state social service authorities with the Georgia Department of Family & Children's Services.
The photo of Hurst and the child posted on Facebook has so far gathered over 20,000 reactions and have more than 500 people actively commenting on it.
Please fill in your e-mail so we can share with you our top stories!