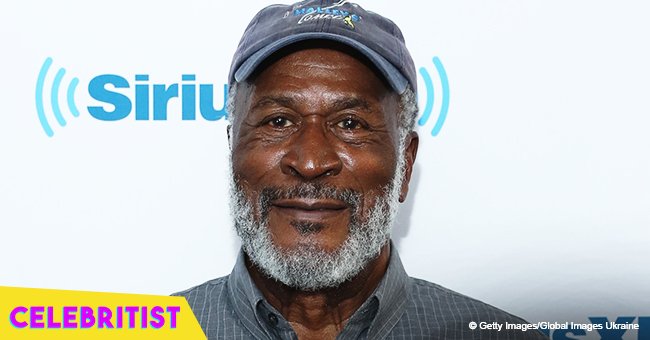 John Amos' adult daughter shows off fuller curves in tank top & skimpy shorts on the beach
Known as "James Evans" on the '70s sitcom "Good Times", John Amos now has an adult daughter who has been following his footsteps in the entertainment industry. When she is not busy filming, Shannon Amos spends her time traveling the world in hopes of achieving spiritual well-being.
Shannon has been visiting different unique and cultural places in the world, trying to find peace and relaxation everywhere she goes. Despite being in an industry that always seems to be in a rush, Amos believes in the importance of spiritual well-being. According to her Instagram page, no matter what the producer does or where she goes, she is always in the pursuit of mind, body, and soul well-being.
Recently, she shared an enlightening post while posing happily on a beach wearing a tight turquoise colored tank top and short shorts which showed off her curvy physique. In the photo, Shannon raises both her hands in the air as she smiled in front of the sun. While the post was already endearing as it is, she made sure to add a meaningful caption to it.
"We are all on a journey and we can use our voice and our platforms for positive change! With that being said, I encourage you to NOT be silent about the atrocities happening at our American Borders. More than 2,300 children have been ripped from the arms of their parents and placed in detainment camps awaiting "Foster care or whatever" according to #45. I'm talking about babies, breast feeding, toddlers and young children screaming for their parents! This is a HUMAN RIGHTS violation reminiscent to slavery and the holocaust. We can NOT be silent! The damage to these innocent children is irreparable! And, parents have no idea where they are or how to reach them. Have we become Nazi Germany? Are you paying attention?"
Moreover, the movie producer urged her followers to be the change they want to see, by making a move towards doing what is right.
"I encourage you to Google and call your elected officials, senators, congressman, organize, make noise! We are not separate! We all have the right to have our basic needs met! As conscious humans if we are SILENT then we are only a part of the problem! Let's change the narrative of this story and stop this outrageous atrocity! Make all the damn NOISE you can! And if you're a celebrity or influencer FCK your brand and make NOISE! If you're not you are no better than the people doing this! Support the Keep Families Together Act!"
Shannon Amos was born to John Amos and Noel Mickelson in New Jersey, USA. She has worked on the movies "The Watermelon Heist" and "A Woman Like That", and TV series like "CI Atlanta" and "No Budget Gourmet" as a producer. She spends most of her time nowadays traveling the world, soul searching in every place she goes.
Please fill in your e-mail so we can share with you our top stories!