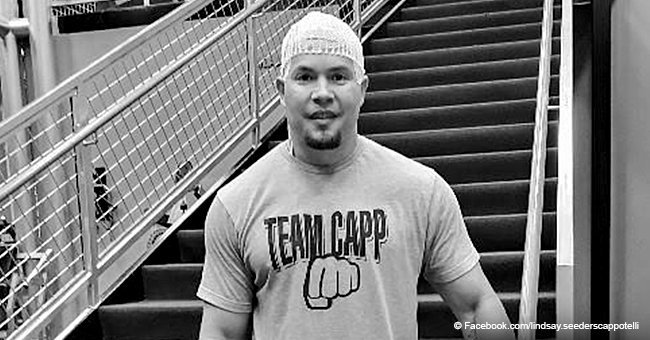 Former WWE wrestler dead at the age of 38
Matt Cappotelli was an athlete with a strong will and talent, as well as a bright future ahead of him, but unfortunately, he wasn't allowed to shine and passed away at 38.
Cappotelli dreamt of becoming a wrestler but, in 2006, he was diagnosed with brain cancer, which stopped him in tracks, forcing him to put his career on hold in order to get himself treated.
Despite fighting the good fight, Cappotelli drew his last breath on Friday, June 29, 2018, with the news being shared by his wife, Lindsay Cappotelli through Facebook.
Lindsay told her husband's friends, fans and followers that he passed away at 3:30 a.m. and that the only person that could ease her pain was no longer able to.
Just a reminder - if you wish to learn more about cancer awareness, please consider following us on our Twitter account @amomama_usa
The late wrestler rose to fame after winning the third season of World Wrestling Entertainment's Tough Enough, where he fought alongside WWE Superstar John Morrison in 2003.
After that, Cappotelli was invited to the company's developmental territory, Ohio Valley Wrestling, where he trained and practiced his in-ring skills for around three years.
After the brain cancer diagnosis, he was submitted to surgery to remove the tumor in 2007. Believing that he was going to be just fine, Cappotelli became a trainer for OVW but ended up discovering that the brain cancer was back in 2017.
During an interview with WWE.com, the late 38-year-old confessed that it was quite shocking to learn that the tumor had grown back, especially after so much time had passed since its removal.
"The first time around, I was completely shocked and thrown off guard as far as having something up there, a brain tumor anyways. The second time around, it was like nothing I could describe. It knocked the wind out of me."
Matt Cappotelli, WWE, August 11, 2017
Despite the grim turn of events, Cappotelli was ready to knock it down one more time. He underwent another surgery and doctors were able to remove most of the tumor, but there was nothing else they could have done to save his life.
Please fill in your e-mail so we can share with you our top stories!