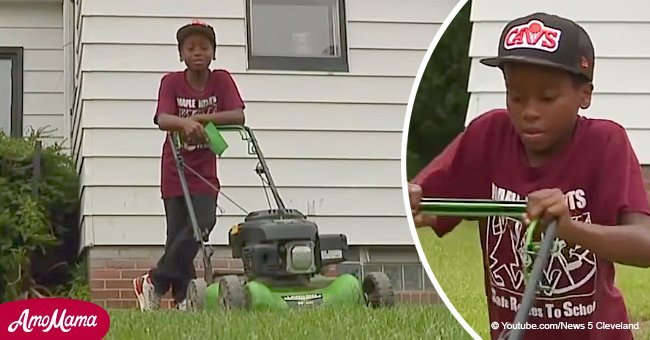 Neighbors call the police on teenager who accidentaly cut part of their grass
Reginald Fields, a 12-year-old boy from Ohio, had the police called on him after he accidentally cut some grass that belonged to another person's yard.
The young man from Maple Heights, who owns Mr. Reggie's Lawn Cutting Service, had been hired by Lucille Holt, a fellow resident, to mow her law on Saturday, June 23, 2018.
Fields was minding his own business and working as hard as he could when Holt's neighbors, whose identities are yet to be revealed, called the police, prompting Holt to share a video about it on Facebook.
The 12-year-old is very proud of his small business, which allows him to keep himself busy, have a little fun and make some money while trying to improve his neighborhood.
Just a reminder - if you wish to learn of more stories such as this one, please consider following us on our Twitter account @amomama_usa.
His cousins often help him during work hours, sweeping the mowed grass off the sidewalk and into trash bags. They were with him that day, and neither of them realized that they were working on a yard that wasn't part of Holt's.
Holt was shocked when she saw the police car parked across the street. The properties don't have a fence between them, making it nearly impossible to know where one begins and where the other ends.
After talking to a police officer inside of the house, everything was settled, and the neighbors odd complain even ended up helping Fields with his business.
According to Holt, after the video was shared on Facebook, more and more people started inboxing her about the grass cutting gig and wanting to know how they could hire Fields, as well as where to find him.
The 12-year-old couldn't be happier about the outcome of the situation and is planning on saving some money to buy better equipment and make his business grow.
Please fill in your e-mail so we can share with you our top stories!