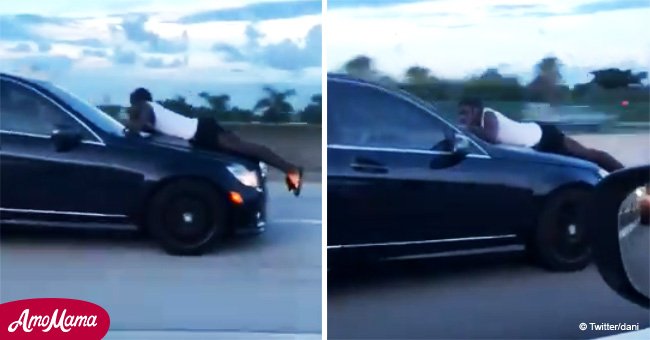 Dramatic moment man makes 911 call while clinging to the hood of a speeding car (video)
Shocking new video footage released by authorities show a Florida man clinging to the hood of a speeding vehicle while asking a 911 operator for help.
The video was shared on Twitter by Daniel Midah and has since gone viral. It has been reweeted more than 23,000 times and received more than 38,000 likes and 1.34 million views.
As reported by CBS News, Midah was driving in a parallel lane when he saw the dramatic scene and recorded it on his cellphone. He also reported the matter to the authorities.
"They were putting their lives in danger, but also those of the people around them. If he had fallen off, he would have hit me, you know, that's on me."
Daniel Midah, CBS News, June 28, 2018.
The story is still developing. Don't forget to connect with us on Twitter, as AmoMama USA, to stay informed about the latest updates.
Midah added that "both rider and driver seemed like it was no big deal." It was later revealed that the driver was Patresha Isidore, and it was her ex-boyfriend, Junior Francis, on the hood.
Francis told 911 operators that his life was in danger and that he was on the roof of his car while someone else was driving.
Soon after Midah called it in, Isidore was arrested near Southwest 39th Street and 32nd Avenue. According to WSVN, she was charged with culpable negligence.
She explained that she had broken up with Francis eight months back and that he didn't want to leave her alone.
She was on her way to collect her daughter from daycare when he jumped on the hood of the vehicle because he didn't want her to take the car.
She maintains that she did nothing wrong and told reporters that "he had plenty of time to get off the car," but that he didn't want to stop.
Inside Edition reported that even though Francis didn't take the matter further, Isidore is considering getting a restraining order against him.
Please fill in your e-mail so we can share with you our top stories!