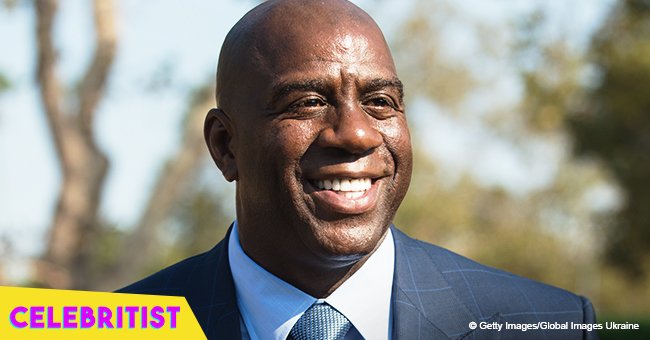 Magic Johnson's wife flaunts curves in tight black midi dress & white sneakers in Paris pics
Cookie Johnson is currently traveling around Europe, and during her visit to Paris, the mother of two showed off her curves in a stunning black dress. She has been by Magic Johnson's side for over 20 years, even after he was diagnosed with HIV back in the '90s.
Cookie Johnson looks stunning in a tight black dress as she poses in front of a beautiful landscape in Paris in pics shared to her Instagram account.
The Seine River and the Louvre Museum serve as the perfect backdrop for the mother of two. Wearing a plaid black and white shirt around her waist, white sneakers and a black purse to complete the look, Cookie looks stunning as she enjoys Europe with her family.
For most of her life, Cookie has been in the back of the picture, always cheering for her husband and her kids, but staying away from the spotlight. However, after the release of her memoir book "Believing in Magic: My Story of Love, Overcoming Adversity, and Keeping the Faith," two years ago, Cookie took her rightful place in front of the spotlight as the matriarch of the Johnson family.
Magic Johnson surprised the world in 1991 after he announced not only his retirement from the Lakers but also that he had been diagnosed HIV positive after having unsafe sex with someone that wasn't his wife.
They were college sweethearts and had been married for only two months, so despite the apparent betrayal behind his diagnose and the fear for the future, Cookie chose to stay with Magic to fight the disease together.
At the time, the couple's concern was that Cookie was pregnant with their first child, but after being tested, they found out that she was HIV negative, and so was the baby, E.J Jonhson.
In an interview with Good Morning America that the couple did a couple of years ago, they recalled the moment Magic had to break out the news to Cookie about his diagnose. "It scared me to death. I mean, I fell to my knees," Cookie said to Robin Roberts. "We both fell on our knees, and we started crying."
"'I didn't have time to get mad about whatever happened, you know, or start asking questions. [My mind] went to "He is possibly going to die," she confessed.
Magic knew that asking his wife to stay after such a confession was a stretch, so he told her that he would understand if she wanted to leave him, but Cookie was not about to give up on their love that easily.
"I said, "Are you kidding me? No. I love you. I'm gonna stay here and help you live. I'm gonna stay here, and we're gonna beat this thing. We're gonna figure out how to beat this thing."
Now, Magic and his family are strong advocates for HIV/AIDS patients. The former Lakers player created the Magic Johnson Foundation to fund and support HIV/AIDS research efforts and awareness programs, and Cookie has been his greatest supporter.
Please fill in your e-mail so we can share with you our top stories!