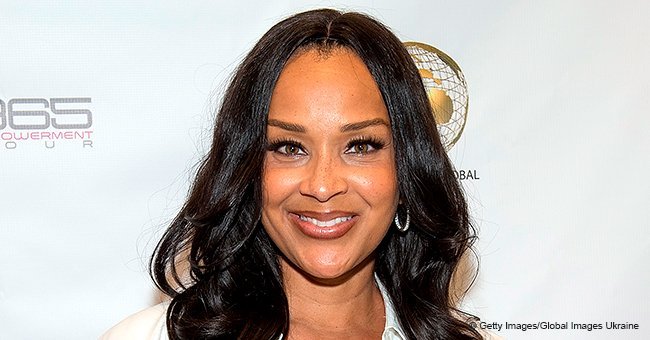 Lisa Raye's granddaughter is all kinds of cute in rose-printed shirt in new pic

Lisa Raye must be beaming in delight over the latest photos of her granddaughter. The toddler who's too cute for words was quite a charmer showing off her pretty eyes and chubby cheeks while fashioning a cute outfit. See how adorable she was!
Lisa Raye's McCoy's granddaughter is the cutest! The adorable 18-month-old graced her mother's Instagram page recently and set a slew of gushing comments in motion
Little Bella Rae, the offspring of Lisa's only daughter, Kai Morae Pace was dressed in a white off-the-shoulder top with large red roses as she charmed her mother's followers in three photos she shared. Bella Rae's ripped denim shorts fit her legs snugly as she wore socks resembling red shoes. Her short curly locks were neatly tied in a high ponytail revealing her pretty big eyes and chubby cheeks.
Fans squealed in delight in their captions that predominantly spelled out "Cute!" The post received more than 12,500 likes in just a day.
Kai promoted the brand her daughter was wearing and couldn't help but gush over her too in her caption.
"Little miss @babybellarae rocking her @tiinytreasures outfit on this beautiful Sunday afternoon looking too cute if I must say so myself. Check out their website moms & dads, you won't be disappointed!!"
Lisa Raye was the proudest "glamma" when her first grandchild was born in December 2016. Months later, she shared an adorable photo with her as they both wore white, the 51-year-old's favorite color. Since then, the happy grandmother has been spending as much time with her, proving how doting she can be.
In February, she took her granddaughter horseback riding, clearly enjoying the moment. At another time she also took Bella Rae shopping to the Farmer's Market. It was great seeing Lisa Raye in good spirits especially after she was robbed of $160,000 worth of jewelry and purses from her home. Luckily, she wasn't home at the time thieves stormed her home though reports suggested it was an inside job. She was having her house renovated at the time which was why she was out of time, and Lisa Raye deduced the burglars must have known about that fact. In the surveillance videos, the burglars were seen knocking on the front door first before entering the building through the side door.
Despite the unfortunate incident, Lisa's happiness at being a grandmother remains unwavering. She's close to her daughter which makes her even closer to her granddaughter.
Please fill in your e-mail so we can share with you our top stories!