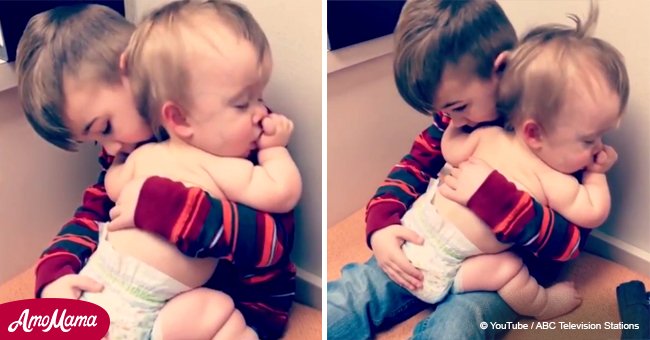 Video of toddler rocking his sister to sleep goes viral

The sweet video of a big brother comforting his crying baby sister has truly captured the hearts of the internet.
In January 2018, Danielle Davis posted a video on Instagram that shows her son, John, displaying the excellent example of brotherly love at the doctor's office.
Like any parent, the mother, from Paulina Hills, Missouri, the United States, indicated that she struggled to watch her daughter suffers when she fell sick.
Danielle captioned the post: 'John rocking Clara at the doctor, she doesn't feel well. I hate when my babies get sick!'
Follow us on Twitter @amomama_usa.
In the clip, John is seen gently cuddling and rocking her younger sister, Clara, to sleep. He did it while waiting for the results of Clara's RSV, Strep, and Flu test.
Clara has achondroplasia, a bone growth disorder that results in disproportionate dwarfism.
The footage also shows the baby girl sucked on her thumb as she falls asleep in John's arms. It seemed that she feels safe with his older brother. She looked very peaceful.
Since the video was uploaded, it has already amassed more than 3 million views and has been inundated with comments.
A lot of netizens praised the strong bond between John and Clara. Most people also shared their hopes for the baby girl's full recovery.
Instagram user Rileydessel wrote: 'I can watch this over and over. It so precious how he will rock her when she doesn't feel well.'
'My heart is so full of love. This boy's love for his baby sister, this bond will never be broken. He will be her forever protector,' Gina_marie_79 added.
'This is the sweetest moment ever. Brings tears to my eyes!' commented Lemon_.and._lace.
User Amotherwithoutachild also shared her thoughts, saying: 'This is so sweet. This is what I miss so much for my little baby that he won't get. Adorable.'
Please fill in your e-mail so we can share with you our top stories!