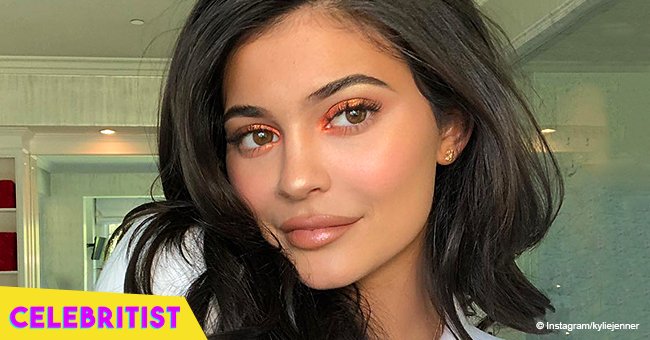 Kylie Jenner steals hearts with new photos of 'my little love' Stormi
TV personality Kylie Jenner, best known for Keeping Up with the Kardashians, took to Snapchat to share a couple of photos of her baby daughter Stormi Webster.
One of them portrayed the baby laying on a big bed wearing a white onesie. Stormi was looking sideways, and a small stuff animal was right next to her. In the background, there was only a modest shelf holding several books.
Kylie edited the image and wrote 'my little love,' proving how much she loves her daughter. For the second image, Stormi seems to be sleeping on her mother's chest.
Just as Kylie did in the previous photo, she captioned this one writing 'nothing better,' referring to the precious mother-and-daughter moment both of them were having.
Even though both images were charming, the aspect about them that captured more people's attention was that Kylie actually posted photos of her baby on social media after saying she wouldn't do that again for a while.
At the moment, Kylie's Instagram feed is filled with photos of her, her sisters, and her boyfriend, Travis Scott. The ones previously uploaded by the TV personality that showed Stormi's face (which were more than a few) were deleted.
The only one left is a picture uploaded on June 3 that portrays Kylie holding her baby in her arms. Stormi's face cannot be seen, only her head and legs.
As Cosmopolitan reported, the reason Kylie deleted the photos and said she wouldn't post more for a while is that people on the Internet were sharing very negative comments about Stormi.
Cosmopolitan added that, when she gave birth, she was very excited about showing her daughter to her fans proving how proud she felt about becoming a mother.
Nevertheless, several people have been making 'nasty' comments that shocked the TV personality, so she decided that the face of Stormi shouldn't be a part of something negative. Even though Kylie might reconsider sharing pictures of the baby in the future, she won't do it soon.
Please fill in your e-mail so we can share with you our top stories!