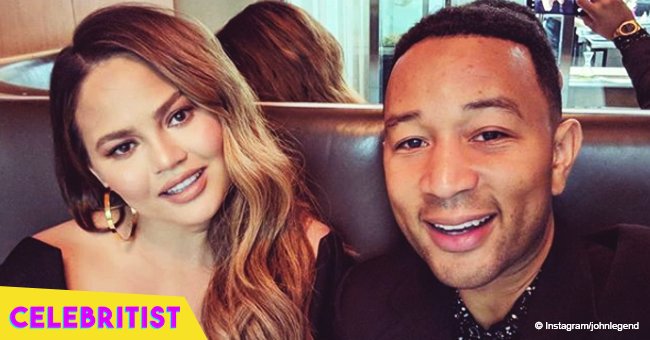 John Legend's wife stuns in ruffled blush dress with newborn son and daughter who 'is over it'
Chrissy Teigen is the epitome of unbothered in a recent pic she posted with her two gorgeous kids. The model has been criticized for her parenting ways in the past, but she always has the perfect comeback for the haters, making fun of herself and her husband before anyone else can.
John Legend and Chrissy Teigen welcomed son Miles into the world on May 16, and the glowing mom recently enjoyed a summer day in Malibu in the company of her family, as she turned heads with a romantic ruffled pink dress and golden sandals.
The 32-years-old model and cookbook author looks stunning a month after giving birth. She left her wavy hair flow down her back with a braid on one side and completed the look with stylish sunglasses and hoop earrings.
Chrissy and John took turns holding their kids, Luna, 2, and Miles Theodore as they enjoyed lunch at Nobu, where Teigen took advantage of the restaurant's decking to shoot some beautiful pictures with her babies.
However, Chrissy confessed on Instagram, through a hilarious caption, how hard it is for a new mom in the entertainment industry to choose the right photo that would avoid her any backlash for "bad parenting." She wrote:
"Should I post the one where his head looks unsupported but my face looks good, and Luna is over it, the one where his head is supported but my face is just okay and Luna is over it, or him crying and my face looks okay and Luna is over it?"
In the gorgeous portrait, Chrissy is holding one kid on each arm while smiling sweetly to the camera. Fans praised Chrissy for always keeping it real when it comes to her kids, Instagram user @shereesplce said "Beautiful and natural pic of parenthood," and @meche2106 added "I say all of them! LOL! You are living the mommy life. It's not always smiles and giggles... I absolutely admire how you still look so beautiful and put together."
After lunch, the "Lipsync Battle" co-host then took off to the Malibu Country Mart, where she visited Sephora with her daughter and husband to check her new makeup collection Becca x Chrissy on the shelves of the store.
The proud businesswoman took a photo at the entrance of the beauty store next to the shelves with her products and wrote in her caption "ah!! @beccacosmetics #BECCAxCHRISSY front and center at @sephora." Chrissy also posted a video where she's asking Luna who's that in the picture, to see if she can recognize her, and the girl does just as told.
Motherhood looks good on Chrissy Teigen, and we're glad she's one of the few celebrities that can make fun or herself while keeping it real to fans when it comes to her family and career.
Please fill in your e-mail so we can share with you our top stories!