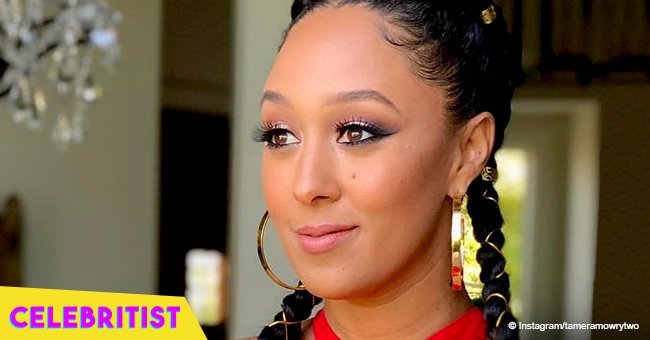 Tamera Mowry and 3-year-old daughter enjoy picnic in recent picture
Little Ariah recently celebrated her 3rd birthday, and Tamera has been documenting cute moments with the girl to share them on social media later. The actress and TV host revealed that she prayed for her daughter to look like her, and her wish came true.
Tamera Mowry is a proud mother of two beautiful kids, Aden, and Ariah, whom she shares with husband, Adam Housley. Her little family is one of the cutest in the entertainment industry, and Tamera is always sharing some of their most special moments with her loyal followers.
Recently, the "The Real" co-host took to Instagram to share a special photo where she was having a picnic with her daughter while promoting a famous ketchup brand. In the pic, Tamera is wearing a patterned t-shirt dress while kneeling on a blue blanket in her garden with Ariah, who was wearing a pink t-shirt and jeans. The pair enjoyed some French fries and drinks.
Just a few days ago, Miss Ariah turned three-years-old, and Tamera celebrated by posting a hilarious pic of the girl frowning in a pink outfit accompanied with a sweet message that, even if the girl can't read yet, made her fans' hearts melt:
"It's my party, and I'll be sassy if I want to! This little soul brings me so much JOY. At such a tender age of 3 you can already tell she knows what she wants. Whether it's a side-eye, a big smile or jovial laugh. She connects. She truly cares about her little family. Ariah you seriously are my best friend and you make my days brighter. I'm so grateful and can't wait for more fun adventures. I love you. #happybirthday."
Is not the first time that Tamera refers to her daughter as her "best friend." The 39-years-old confessed on "The Real" that while she was pregnant with the girl, she was praying for the baby to look like her.
"I wanted Ariah to really look like me," she said, "Like, everything, everything. I think she has my skin color and my eye color." Co-host Adrienne Bailon added "You prayed for that! I remember! She was like, 'Lord, let her be brown. Let her have black hair."
Since Tamera's son, Aden, has his father's hair and eye color, it was only natural for Tamera to want her second child to look a bit more like her. Still, she recognizes that her kids are the perfect mix of her and Adam, and she couldn't be happier about it.
And when it comes to having more children, Tamera has stated she's done with babies.
Her twin sister, Tia Mowry, recently gave birth to her second child, a baby girl named Cairo Tiahna, and while Tamera would have gotten a baby fever after watching her sister pregnant, she revealed to US Weekly she was actually "done."
She said:
"Usually, this is the time when you think about having another child, but I'm done. Done, done, done, done… done, done. I love it. Usually, I'm like, 'Aww, how sweet! OMG!' Now, I'm like, 'Oh, God, girl. It's all you. All you, honey. Do you need any help? Do you need any help? I'll help you out.'"
Tamera has a beautiful family already, and we're glad to see her kids growing up through her social media accounts.
Please fill in your e-mail so we can share with you our top stories!